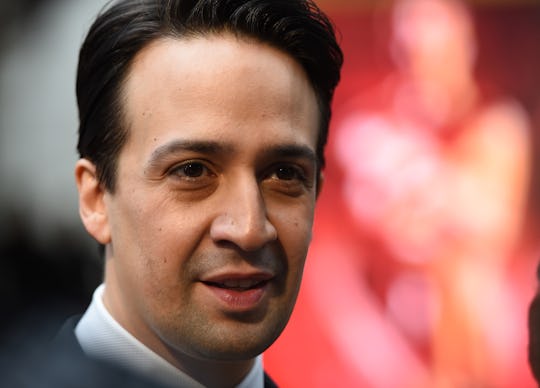 ROBYN BECK/AFP/Getty Images
Hollywood Responds To The Las Vegas Shooting
Over 50 people have been killed in the wake of the Las Vegas shooting after a lone gunman, who was a 64-year-old male, opened fired on the crowd attending the Route 91 Harvest Music Festival. As details of the horrifying and tragic ordeal continue to come in, many have taken to Twitter either to provide information about what happened or to send out messages of love or prayer to the people impacted. This includes the people of Hollywood. In fact, celebrity responses to the Las Vegas shooting prove just how widespread the heartache over this situation truly is.
Update: As of 6 p.m. ET on Monday, Oct. 2, CNN reports that 59 people have died and over 500 people were injured. Authorities say the suspect had 18 additional firearms, explosives and several thousand rounds of ammo at his home in Mesquite, NV.
According to ABC News, this is already being referred to as "the deadliest shooting in modern U.S. history," so it's not all that surprising that people, including celebrities, have a lot to say on the matter and messages of love they would like to send out as a way of providing some semblance of comfort amid all of this fear and devastation. Police believe that the shooter, who allegedly killed himself in his hotel room prior to police entry, was working alone and that no one else was involved.
It's a terrifying thing to comprehend, but the many heartfelt responses currently pouring out on Twitter proves that in times like these, it doesn't matter who we are or what we do — because when it comes down to it, we're all in this together.
Like the rest of us, many celebs are having a difficult time wrapping their heads around what happened. Whether you were awake when the news reported started coming in or if this is something you woke up to in horror, mass shootings never fail to fill anyone with heartbreak and this incident is no different.
Details and eye-witness accounts will continue to come in as the day progresses, but one bystander, Meghan Kearney, told NBC News exactly what it felt like to be there witnessing it all firsthand. She told the outlet:
We heard what sounded like firecrackers going off. Then all of a sudden we heard what sounded like a machine gun. People started screaming that they were hit… When we started running out there were probably a couple hundred [people] on the ground ... People kept dropping and dropping. … People were getting shot one foot away from us. People were trying to save their friends. There were gunshots everywhere. Helping them would've meant that we got shot, too.
In addition to those who heard about the news, there were also a number of performers from the three-day Route 91 Harvest festival who also took to social media to express their sympathies over the shooting.
Country star Jason Aldean, who was performing at the time the shooter started firing, has also released a statement following the incident to inform his fans that he's alright and to share his disgust and horror over what happened to fans who were just looking to have a fun night out, full of music and dancing.
He wrote on Instagram:
Tonight has been beyond horrific. I still dont [sic] know what to say but wanted to let everyone know that Me and my Crew are safe. My Thoughts and prayers go out to everyone involved tonight. It hurts my heart that this would happen to anyone who was just coming out to enjoy what should have been a fun night. #heartbroken#stopthehate
More and more messages of love will continue to pour out from the Hollywood community as the day goes on, but it's clear their message is the same: this needs to stop.
There has been way too much violence in the world as of late and it's up to us to make the changes necessary to prevent guns from being so easily accessible. Because, as the Las Vegas shooting proves, they could very easily fall into the wrong hands.
Watch Romper's new video series, Romper's Doula Diaries:
Check out the entire Romper's Doula Diaries series and other videos on Facebook and the Bustle app across Apple TV, Roku, and Amazon Fire TV.