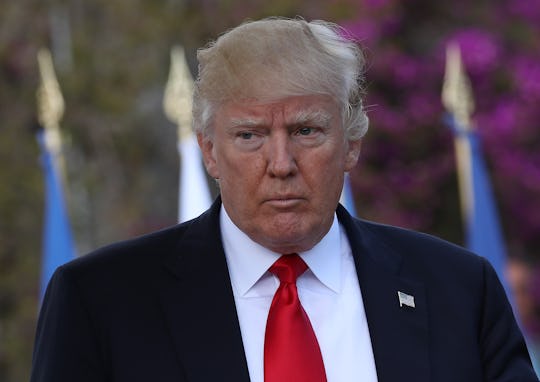 Sean Gallup/Getty Images News/Getty Images
Celebrity Responses To Trump's Transgender Military Ban Stand In Solidarity
On Wednesday morning, President Donald Trump chose Twitter as his medium (as usual) to deliver a shocking announcement. But the celebrity responses to Trump's transgender military ban will warm your heart. Historically, Hollywood has been rather pro-LGBTQ and anti-Trump, so it's not a huge surprise, but it's always nice to see it on display. No word yet on if this will be the start of yet another social media feud between the president and some random actor, but if it is, he's clearly outgunned.
America's favorite gay uncle, George Takei, posted a four-tweet response on Thursday morning:
History shall record that you are not only the stupidest, most incompetent president ever, but also the cruelest and pettiest. #Shame
Trump is banning all transgenders from the military. To those who believed Trump would be a friend to LGBTs, time to admit you were conned.
Donald: With your ban on trans people from the military, you are on notice that you just pissed off the wrong community. You will regret it.
Invidious discrimination against any group must be opposed by all. Straight/Cis allies: Will you stand with LGBTs? #TransRightsAreHumanRights
If you're not moved yet, just picture him shouting those words from a cliff's edge, perhaps while waving a sword. And he definitely has an army behind him:
Many stars (and regular people, for that matter) pointed out the inherent courage in just existing as an out trans person.
Comedian Cameron Esposito reminded everyone that although Trump phrased his announcement as if the concept of trans people serving in the military was just invented last week, they've been officially allowed to serve for over a year now, and in fact, they've always existed.
Some were quick to point out the perceived hypocrisy of "Assistant to the President" Ivanka Trump's claim that she's "proud to support my LGBTQ friends and the LGBTQ Americans." The tweet coincided with the start of Pride Month, which her father failed to recognize.
And while everyone else has the main issue covered, a pair of actors drew attention to a small detail that most of of has forgotten in 2017. Although former White House Press Secretary Sean Spicer did a great job of attempting to normalize Trump's bizarre social media behavior, Twitter is actually not a normal or appropriate medium for the president make proclamations.
And finally, let's take a moment to recognize that transgender military personnel aren't an abstract concept; they're real people who risk their lives (in more ways than one) to protect a country and a government that won't protect them.