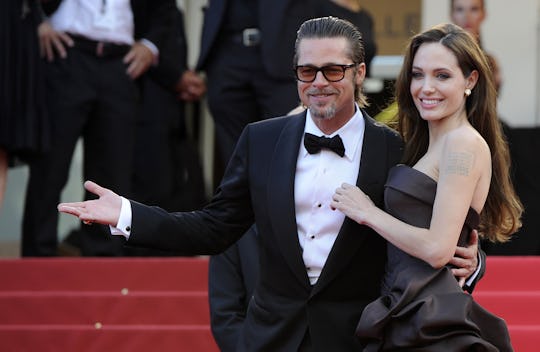 ANNE-CHRISTINE POUJOULAT/AFP/Getty Images
Celebrity Tweets About Angelina Jolie & Brad Pitt's Divorce Prove Everyone Has An Opinion
The relationship between Brad Pitt and Angelina Jolie has been tabloid fodder ever since it began, since it followed the much loved relationship between Pitt and Jennifer Aniston. Aniston and Pitt were a Hollywood golden couple for years, but following their divorce, Pitt and Jolie (popularly known as "Brangelina") rose to the top of the celeb power couple pack. Now, after years of separation rumors, the two have actually split, and celebrity tweets about Angelina Jolie and Brad Pitt's divorce prove that virtually everyone has an opinion about the famous pair's relationship. Romper has reached out to both Jolie and Pitt's representation, but did not hear back at the time of publication.
Update: While both parties will undoubtedly want privacy during this time, Pitt did release a statement to People and said the following:
This decision was made for the health of the family. She will not be commenting, and asks that the family be given its privacy at this time.
Jolie's attorney, Robert Offer, offered this statement to Reuters:
"This decision was made for the health of the family. She will not be commenting, and asks that the family be given its privacy at this time."
Pitt and Jolie have been in a relationship since at least 2005, though neither officially confirmed the relationship until Jolie announced her first pregnancy with Pitt's child in January 2006, which followed Pitt's proceedings to adopt Jolie's children at the time, Maddox and Zahara. Jolie gave birth to the couple's first biological child, Shiloh Jolie-Pitt, later that year. They adopted their fourth child, Pax, in 2007, and Jolie gave birth to their biological twins, Vivienne and Knox, a year after that, bringing the Jolie-Pitt clan to 8.
Jolie and Pitt eventually married in 2014, after nearly a decade together. Like most Hollywood supercouples, the two were beset with near-constant split and divorce rumors (particularly throughout this past summer), but repeatedly shrugged them off. This time, it seems, the rumors are legit – TMZ reported that legal documents had been filed by Jolie initiating the divorce, with sources telling the news outlet that Jolie's decision to split had to do with Pitt's "parenting methods."
Brangelina has been a hot topic for over a decade, now, so suffice it to say, Twitter was in an absolute uproar over the divorce news. Specifically, many celebs are reacting to (and joking about) the split, with many focusing on speculative "reactions" from Pitt's ex, Jennifer Aniston. Aniston has been in a new relationship with fellow actor Justin Theroux since 2011 and the two married last August, but Aniston's feelings (or lack thereof) about Brangelina have equally remained a hot topic since her split from Pitt in 2004, when declaring yourself "Team Jen" and "Team Angie" with actual T-shirts was all the rage.
Who even knew that there were this many Jennifer Anniston reaction gifs to choose from?
Naturally, Twitter queen Chrissy Teigen had something to say about the news, choosing to remain firmly neutral and avoid mentioning Aniston altogether.
Other celebs were similarly distraught to the point of wanting to take a hiatus from life in light of this news. I feel ya, celebs – Brangelina were, without a doubt, the original "couple goals," and it's rough to see that even they couldn't make it work.
Regardless of the reasons for the split, it completely makes sense that the public and fellow celebrities alike are taking the divorce news so hard and reacting so loudly. Even not knowing Pitt or Jolie personally, the two represented what amounted to a modern Hollywood love story, the quintessential, beautiful power couple – and it's obviously quite disheartening to see that fall apart.