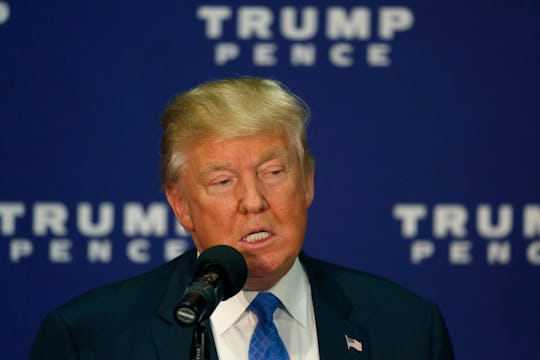 MARY SCHWALM/AFP/Getty Images
Celebrity Tweets About Donald Trump's Billy Bush Video Show Distaste For Trump's Comments
Republican Party presidential nominee, Donald Trump is known for his unfiltered personality and off the cuff comments. But no one expected his comments to go this far. On Friday night, The Washington Post released a hot mic behind the scenes video of an Access Hollywood appearance Trump made in 2005 with the show's host, Billy Bush. From Twitter to major news networks, practically everyone has had a reaction towards Trump's awful comments about women. Which is why celebrity tweets about Donald Trump's Billy Bush video show just how important it is for celebrities to remember that when they're wearing a microphone, the camera is always rolling.
Before Trump was a politician running to be President of the United States, Trump was a celebrity and a businessman worth millions. Trump was a reality star — he hosted reality shows The Apprentice and The Celebrity Apprentice on NBC, which started in 2002. In the early 2000's you could not go anywhere without hearing Trump's TV catch phrase, "you're fired." Trump's level of celebrity apparently allowed him to do some lewd acts towards women. In the Washington Post video, Trump makes a variety of inappropriate comments and actions towards women, telling Bush that if "you're a star" women will let you start kissing them. Trump's level of celebrity allows him to "do anything" — including grabbing them in places that they definitely don't want to be grabbed in. Celebrities are not agreeing with Trump's incredibly false statement about how being a celebrity will allow you to do anything with women. It is a statement that seems to forget there is a thing called consent — even if you are a popular businessman turned reality star. Celebrities took to Twitter to react to the video and comments made during its duration.
While most celebrities chose to rightfully call Trump out on his gross behavior and comment on just how ridiculous the video is, Happy Days actor Scott Baio chose to defend Trump on Twitter. Baio's support of the candidate, comes after he endorsed Trump during the Republican National Convention in July. Other celebrity Trump endorsers, like actress Stacey Dash and reality star Teresa Guidice stayed silent and did not tweet out anything pertaining to the claims on Friday night. Meanwhile, Republican politicians chose to condemn Trump on Twitter for his words.
Trump and Bush apologized for their comments and actions depicted in the video on Friday after the video's release, in two different statements. However, apologies don't make up for what was said. Trump clearly talked about using his status to get with women and how that makes women want him. But there are some celebrities that don't need to take advantage of their status — instead they take advantage of Twitter, where their thoughts about Trump the 2016 presidential election can be clearly heard.