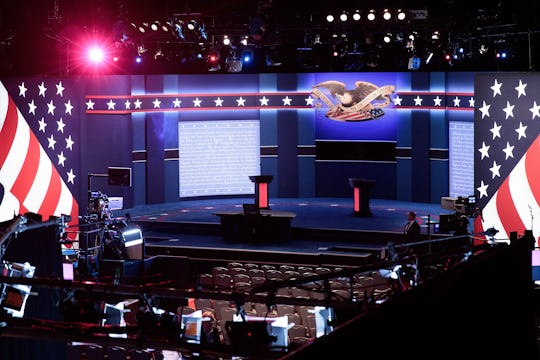 Drew Angerer/Getty Images News/Getty Images
Celebrity Tweets About The Debate That Will Keep You Entertained If The Candidates Don't
If you're watching (or, perhaps more accurately, cringing your way through) the first presidential debate hosted by NBC tonight, and you'd like an alternative commentary source besides your many aunts on Facebook, then look no further. These celebrity tweets about the debate will keep you entertained, even if the candidates don't, Lester Holt goes soft, or the audience nods off.
Chrissy Teigen signed on early to share her best drinking game for basically now till Election Day (ie., "never stop"), which frankly, seems like sound advice. And Aaron Carter promptly showed up to the Twitter party to prove that he had, in fact, ditched his early endorsement of Donald Trump. The debate kicked off three-and-half minutes late after opening remarks ran long, but the candidates eventually made it to the stage, each sporting the opposite party's colors. Hillary Clinton wore a red suit, while Donald Trump traded in his red power tie for a blue one. But it's probably safest not to interpret these wardrobe choices as a nod toward civility. The debates are scheduled to last 90 minutes, broken up into six segments, with the three topics for the evening focused on "Achieving Prosperity," "America's Direction," and "Securing America."
While Pink's indigestion mirrored the one giant irritable bowel that this election season has become, everything from Lester Holt's inability to stem the flow of Donald Trump's shouty word salad to Hillary Clinton's general state of grace and power was catching people's attention on Twitter.
But plenty of celebs, in addition to lobbing jokes, leaned into the more serious implications of debate. For example, Community's Yvette Nicole Brown had no trouble taking Trump to task for his suggestion that Stop and Frisk become a nationwide policing tactic, and his disparaging of communities of color.
"African-Americans and Hispanics are living in hell," he said at one point. "You walk down the streets, you get shot."
One of Trump's more bizarre comments was a remark about how the DNC hack might have been caused by "somebody sitting on their bed that weighs 400 pounds," inspiring a flurry of tweets questioning why exactly Donald Trump's perception of a real-life cyber security threat essentially boiled down to Comic Book Guy from The Simpsons. #Notallhackers, dude. Has he seen Rami Malek?
The next two presidential debates will take place on October 9 at Washington University in St. Louis and October 19 at University of Nevada-Las Vegas. Hopefully, the celebrity commentary game stays strong as the debates continue.