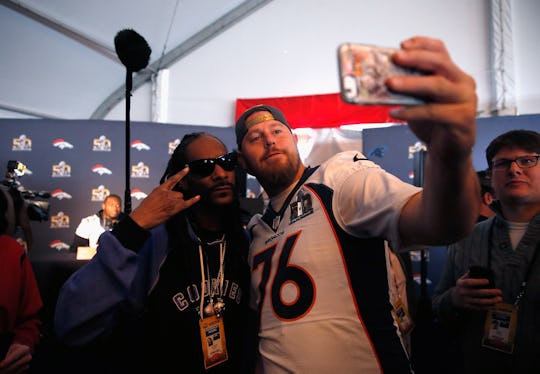 Ezra Shaw/Getty
Celebrity Tweets About The Super Bowl Show Their Team Loyalties
Super Bowl 50 is finally upon us, and with that a myriad of tweets, Snapchats, and Facebook statuses about the game. But chances are if you're scrolling through your social media feed tonight, your friends won't be the only ones commenting on the matchup between the Denver Broncos and Carolina Panthers. Look hard enough and you're sure to find a slew of celebrity tweets about the Super Bowl.
In between award show appearances and on-screen projects, Hollywood's finest plan to kick back with a platter of buffalo wings and root on their favorite team. Plenty of celebrities declared themselves Broncos fans or Panthers fans prior to Sunday's game, making their social media feeds all the more interesting. I mean, who wouldn't want to witness a smack talk-off between Panthers fan Brooklyn Decker and Broncos ally Jessica Biel? But you don't have to be a sports fan to participate on social media. Even celebrities who, like me, are only tuning in for the commercials and Beyoncé performance are contributing to the online conversation in a way that's making us all LOL and nod our heads in agreement while shouting "YAS!!!"
From trash talking among fans, to snaps of snacks, to commentary on commercials, these celebrity tweets about Super Bowl 50 proves A-listers really are just like us.