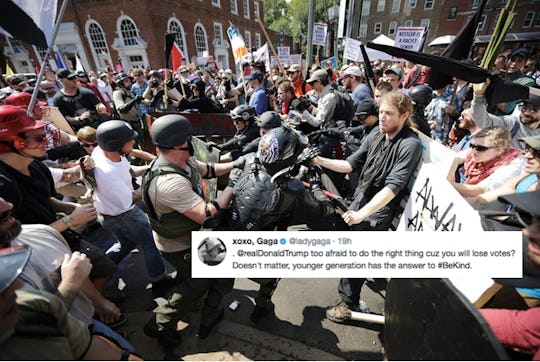 Chip Somodevilla/Getty Images News/Getty Images
These Celebrity Tweets About The Charlottesville Violence Say What Need To Be Said
What happened in Charlottesville, Virginia over the weekend is absolutely inexcusable. The reports from the "Unite the Right" rally — where white nationalists took to the streets of Charlottesville representing messages of hate and violence — are absolutely terrifying. And on Saturday, President Donald Trump took to national television to "condemn" the rally — by blaming "many sides." Pardon? Well, these celebrity tweets about Trump's response to Charlottesville violence show that the president definitely doesn't speak for everyone and say what should've been said.
After Saturday took a violent turn when the rally left one dead, dozens injured and kept tensions high, Virginia Gov. Terry McAuliffe declared a state of emergency. As previously stated, midway during the day during a press event, Trump unexpectedly spoke out about the violence. Trump said, according to CNN:
We condemn in the strongest possible terms this egregious display of hatred, bigotry, and violence — on many sides, on many sides. It's been going on for a long time in our country. Not Donald Trump. Not Barack Obama. It's been going on for a very long time. It has no place in America. No citizen should ever fear for their safety and security in our society. And no child should ever be afraid to go outside and play with their parents and have a good time.
But that is not what should have been said in light of the hatred, bigotry, and domestic terrorism that was happening at the same time as Trump was speaking about it.
Here is the thing about celebrities — they, along with those active on Twitter, have a major platform to make a change. If they say something, their millions of fans and followers are going to listen — and that is exactly what they did. On Saturday, everyone, from pop stars to politicians, took to Twitter to use that platform for good and say everything that Trump could not, did not, or refused to say.
Celebrities Fight Back
While Trump did not publicly condemn those marching in the rally, celebrities did and took to their accounts to respond to Trump and made a bold statement about hatred to their fans.
Politicians
Politicians put their political views aside on Saturday to condemn the acts of violence and hatred from fascists. These senators, former presidential candidates, people who have the interests of the American people at heart — took to Twitter to speak about the horrific rally.
Let it be clear: The violence that took place in Charlottesville this weekend was ignited and at the hands of white nationalists and supremacists — and Trump failed to state that.