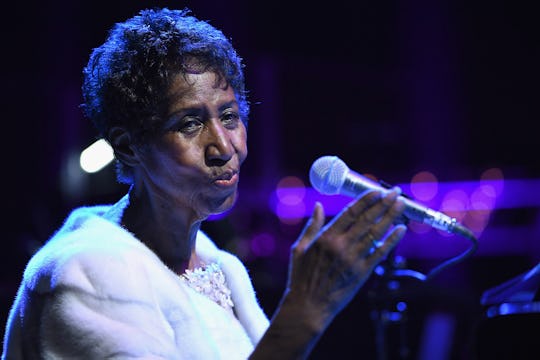 Dimitrios Kambouris/Getty Images Entertainment/Getty Images
Music Icons Everywhere Are In Deep Mourning For Aretha Franklin
Fans were shocked when the news broke on Sunday that one of America's greatest artists had fallen gravely ill. Following her passing on Thursday, Aug. 16, celebs and musicians mourned icon Aretha Franklin and looked back on her long career filled with numerous accomplishments. While the singer is no longer with us, her memory lives on in the hearts of those she inspired.
The site Showbiz 411 was the first to break the news of 76-year-old Franklin's condition on Sunday, citing exclusive information from an anonymous source close to the family. The source also noted that the family was asking for privacy and prayers during their difficult time. Franklin was first diagnosed with cancer in 2010, according to The Guardian, and had been battling it ever since. Her final performance was for the Elton John AIDS Foundation on November 2, 2017 in New York City, and even then she was feeling worn down, according to Showbiz 411. And on Thursday, the AP reported that Franklin's publicist confirmed that the Queen of Soul died in her home in Detroit.
Franklin chose to battle her illness privately, not sharing any of the details with the public until the source spoke with Showbiz 411. A longtime friend of the legend told People as much, saying, "She has been ill for a long time. She did not want people to know and she didn't make it public." By Tuesday, sources told CNN that Franklin had been moved to hospice care at home and was surrounded by family and friends. Fans, celebs, and musicians alike have been singing Franklin's praises and reflecting on her many successes since her condition was made public.
Big names in the music industry such as Ciara, Mariah Carey, and Chance the Rapper tweeted out love for Franklin in her final days. Even President Bill Clinton took to Twitter to express his concern for the superstar, calling her music "an important part" of his life. The massive response to Franklin's illness and passing is not surprising considering her long list of accomplishment and accolades.
In a retrospective article, CNN looked at the late star's illustrious career. For the past sixty years, Franklin has been singing since getting her start at the small Detroit church where her father was the minister. Her numerous hits like "Respect," "Chain of Fools" and "(You Make Me Feel Like) A Natural Woman," led her to be the first woman ever inducted into the Rock and Roll Hall of Fame in 1987, CNN reported. Franklin has 44 Grammy nominations and 18 wins, as well as the Presidential Medal of Freedom. She was the youngest person to ever receive a Kennedy Center Honor and has performed at major events including Dr. Martin Luther King Jr.'s memorial service and the inaugurations of multiple presidents.
Even in her final days, Franklin continued to inspire and delight those around her. Franklin's nephew, Tim Franklin, told People that when he visited her, "She [was] alert, laughing, teasing, able to recognize people." Her family was there with her in her home and provided her with love and comfort, he said:
I saw her a week ago Friday and we talked for about 45 minutes to an hour. My brother was there on Saturday and she was alert, talking, laughing, joking. She's watching TV, so god forbid she sees all of this 'Aretha's dead,' so I don't want to dampen her spirits on that.
Franklin said her final goodbyes to friends and family before passing on Thursday. As the world mourns the loss of another musical great, fans can take comfort in the fact that her music will never leave them. Her life and legacy live on in the many musical masterpieces that she has left behind.