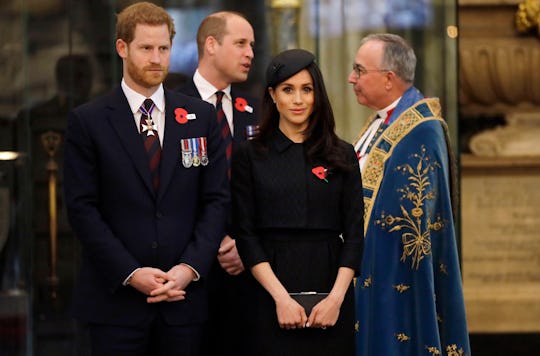 WPA Pool/Getty Images Entertainment/Getty Images
These Celebs Could Perform At The Royal Wedding Reception — In Case You Weren't Already Jealous
Interested parties have been eager for every last detail about the royal wedding, which includes wondering which famous performers might be lending their talents to the celebration. The list of musicians who will be offering accompaniment to the ceremony has been made public, but the celebs performing at the royal wedding reception has been kept under wraps until the big day. Of course, that hasn't stopped people from speculating like mad.
The ceremony performers were revealed in late April in a memo from the palace. According to Elle, it stated that both Prince Harry and Meghan Markle had "taken a great deal of interest and care in choosing the music for their Service," which would include "a number of well-known hymns and choral works." The choir of St. George's Chapel would be performing, as well as cello prodigy Sheku Kanneh-Mason, Karen Gibson, and the Kingdom Choir. But it didn't stop there. There would also be an orchestra made up of members of the BBC National Orchestra of Wales, English Chamber Orchestra, and the Philharmonia; Welsh soprano Elin Manahan Thomas would be present in addition to David Blackadder on trumpet, Luke Bond playing the organ, and State Trumpeters from the Band of the House Cavalry.
But the reception will be a different story.
Performers at the service may tend towards the traditional, but there's room to go outside the box when it comes to the reception. Town & Country reported that Kensington Palace released a statement that indicated as much without giving away any specific details, saying "This wedding, like all weddings, will be a moment of fun and joy that will reflect the characters of the Bride and Groom."
It was rumored that the Spice Girls might have been planning to make an appearance after Mel B dropped a couple of hints while visiting The Real. She said that all five Spice Girls were invited to the wedding and while she didn't confirm a performance, she implied it pretty heavily. A source later told Us Weekly that there were "active talks between the Spice Girls management and Prince Harry's staff," which made it seem all the more plausible. However, Mel C told E! News that she thought her former bandmate was simply joking. The Spice Girls royal wedding reunion might be a no-go after all.
There were many other names in the mix, too. Ed Sheeran has been a rumored possibility, according to Esquire, after making it clear that he was open to the offer. After receiving an MBE, which means Sheeran is now a member of the Most Excellent Order of the British Empire, the singer said that he had not been invited to perform, but if he was, he would definitely take the opportunity.
Sir Elton John could also be one of the celeb performers at the reception. He joked about not being invited in an interview with BBC Radio 2, but GQ reported that he had cancelled Las Vegas tour dates the weekend of the wedding, which seems like solid evidence he's going to be attending the nuptials instead. Of course, John could be coming just as a guest and not as entertainment; he was a dear friend of the late Princess Diana, so it would make sense for him to be on the guest list for her son's wedding. Still, that same connection could mean that John will be singing a song or two after all.
All will be revealed soon enough, but until the reception begins, it looks like Prince Harry and Meghan Markle will be keeping quiet about what kind of spectacular acts to expect.