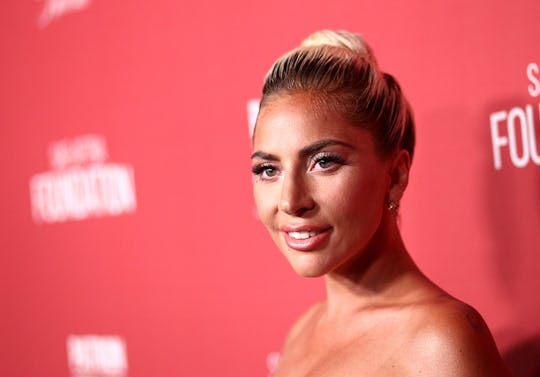 Tommaso Boddi/Getty Images Entertainment/Getty Images
Celebs Are Pitching In During The Wildfires In California & It's So Inspiring
As wildfires continue to ravage the state of California, hundreds of thousands of residents have been displaced from their homes, whole towns have been leveled, and at least 42 people have been confirmed dead so far. Firefighters and first responders are still working around the clock in an attempt to contain two of the largest blazes — the Camp Fire and the Woolsey Fire — however, there's still a long way to go. And celebs volunteering to hep victims, first responders, and more during the wildfires devastating California are so inspiring.
Among these celebrities is Lady Gaga — who was actually forced to leave her Malibu home because of the Woolsey Fire. Just days after she evacuated, the singer paid a visit to a Red Cross shelter at Pacific Palisades High School on Sunday, according to People. Lady Gaga reportedly handed out gift cards, posed for photos, and even sang to an elderly woman during her 90-minute visit. "I extend my love," Gaga told those at the shelter, according to TMZ. "I know we do not know each other, but I love you. This is an emergency, but you are not alone."
On Saturday, Nov. 10, she also gave a shoutout to those who continue to put their lives on the line. "I'm so grateful I love you and god bless you to all the firefighters and first responders who continue fighting this fire," Lady Gaga tweeted. "You risk your lives for us, and I'm so humbled by your bravery. You are our heroes. #WoolsleyFire."
Liam Hemsworth and Luke Hemsworth, have also stepped up to lend a hand in Malibu. As Metro reported, the two brothers returned to the neighborhood — wearing face masks — to where Liam's home with Miley Cyrus once stood. (Judging by a photo the actor shared on Instagram, though, the home was a complete loss.) The soot-covered brothers were also photographed riding around the neighborhood in order to bring supplies to neighbors, according to the publication. Furthermore, Liam Hemsworth and Miley Cyrus announced on Tuesday that they've donated $500,000 to The Malibu Foundation, E! Online reported.
"It's been a heartbreaking few days. This is what's left of my house. Love," Liam captioned a photo of his charred home. "Many people in Malibu and surrounding areas in California have lost their homes also and my heart goes out to everyone who was affected by these fires." He continued:
I spent the day in Malibu yesterday and it was amazing to see the community pulling together to help each other out in any way they can. Malibu is a strong community and this event is only going to make it stronger. Thankful for the all the great local guys that helped keep smaller fires out around my property. I love u guys. I love you Malibu. Thank you to all the hero firefighters around California. It's going to be a journey to rebuild. Stay strong all. To help/donate visit @malibufoundation and @happyhippiefdn
As Today reported, Guy Fieri is yet another celeb who has taken action as a result of the California wildfires. The Diners, Drive-Ins, and Dives star surprised firefighters and first responders of the Camp Fire when he showed up in Butte County with meals for them on Sunday. "Thank you so much Guy for filling our bellies and lifting our spirits," the Butte County Sheriff's Office wrote in a tweet, also sharing photos of Fieri's visit.
Meanwhile, actor James Woods has used the power of social media in order to help locate missing people, ABC News reported.
As InStyle reported, the Kardashians are spreading awareness for sending aid to firefighters, as well as buying supplies of their own to donate.
Plenty of other celebrities are sharing ways to help support the ongoing efforts to contain the California wildfires — including Gerard Butler and Alyssa Milano.
Clearly, plenty of celebrities are lending a hand — whether it's physically, monetarily, or through social media awareness — during this devastating time in California. I have little doubt that fans and followers are taking note, and that they've been inspired to help however they can as well. Because considering the Camp Fire and the Woolsey Fire are both only around 30-percent contained at this point, firefighters and first responders still have a long way to go.