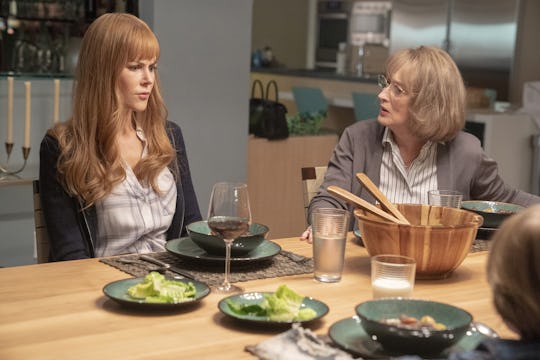 Jennifer Clasen/HBO
Mary Louise Just Got The Glasses Slapped Off Her Face On 'Big Little Lies'
Ever since Mary Louise stepped one sensible loafer into Monterey on Season 2 of Big Little Lies, fans of the show have wanted to do one thing: slap her, despite the fact that she is Meryl Streep in disguise. So Celeste slapping Mary Louise on Big Little Lies Episode 4 had Twitter going absolutely wild in response. Finally, their dream had been realized!
Mary Louise is not a woman who understands the concept of boundaries. She will show up at your favorite coffee shop, outside your apartment, or at your friend's early pumpkin-carving party. She is a champion lurker, but she doesn't stop there, oh no. She'll take any opportunity she can to deny the experiences of abuse victims. That's what earned her a slap from Celeste: Mary Louise decided to move into Jane's building, then continued to express her doubts about the night of Jane's rape. She even implied Celeste was at fault for driving Perry into the arms of other women. It was a moment that really deserved a slap, and Celeste didn't hold back (though she did apologize afterwards).
Unfortunately, the impulsive action may cause more trouble for Celeste down the line, even if it was supremely satisfying in the moment. From reactions on Twitter, that slap was definitely cathartic.