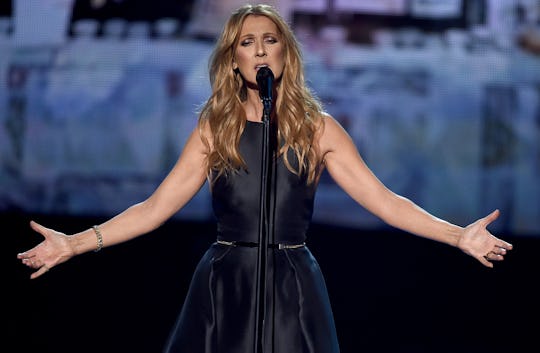 Celine Dion Covered "Hello" By Adele, & It's The Soothing Breath Of Canadian Air You Need Right Now
If you've been to Las Vegas anytime this decade, this will come as no surprise — as you've surely seen the ads, the rolling billboards and the digital cab banners — but Celine Dion has a long-standing show in Sin City, at The Colosseum in Caesars Palace. (The same stage where Elton John performs, and where Mariah Carey will play later this year. It's a big deal.) Dion has performed an average of 70 shows per year since 2011, and with so many shows her New Year's Eve performance had to be "something special," and it was because Celine Dion covered Adele's "Hello" (and, hello, it was awesome). Apparently, even the Canadian queen of power ballads adores Adele. Go figure!
And while her performance was great, it is likely that if you are searching for Celine Dion this morning — or Adele — you are seeking some "easy-listening" music, something to soothe your hangover, or you are just stuck trolling through the bowels of the Internet. Either way, I'm not judging. (Seriously. No. Judgement. Here.) And while I'm not sure I would want to listen to Dion or anything with a hangover, that may just be me. So for those of you who are looking to just lay back and relax, here are four other videos of Dion singing sure to soothe your stomach and soul:
"Beauty And The Beast"
This beautiful duet which everybody — and I mean everybody — knows features Celine Dion and Peabo Bryson. It is a classic. It is romantic, and if you pair it with a screening of the Disney flick, you're sure to be feeling better in no time. (Though I may be a bit biased: I am a self-professed Disney-freak).
"To Love You More"
It may be 2016 — the start of a new year, and a new you — but new beginnings can only occur if/when something ends, and Dion knows this too:
Take me back in the arms I love / Need me like you did before / Touch me once again / And remember when / There was no one that you wanted more.
Keep the covers close and, uh, grab the tissues.
"Water From The Moon"
Perhaps not as well known as some the other songs in this roundup — by Celine-standards, "Water From The Moon" only saw moderate success — it is crisp, clean, and oh-so-soothing. Seriously. So make a warm cup of tea and someone to snuggle up with, or just your cat. Whatever works.
"My Heart Will Go On"
I am a babe of the '80s and, like many coming of age in the '90s, I was obsessed with Titanic — and Leonardo DiCaprio. (Ah, who am I kidding; I still am!) This song was my heart and my anthem, and what's more reassuring than Celine and childhood nostalgia?
The Celine Dion/Adele cover can be seen here:
Image: Kevin Winter/Getty Images