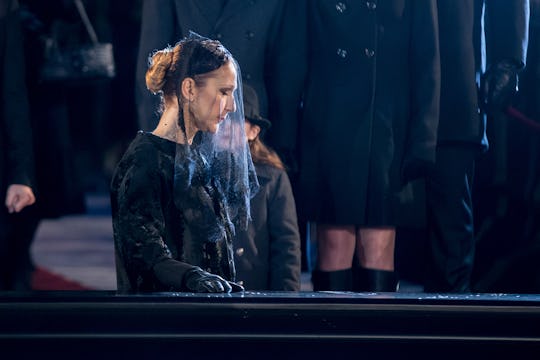 GEOFF ROBINS/AFP/Getty Images
Celine Dion Used 'Up' To Explain Her Husband's Death To Her Children
Céline Dion's longtime husband, René Angélil, died on Jan. 14 after an extended battle with cancer. He was survived by his wife, Dion, and their three children, the youngest of which were 5-year-old twins, Nelson and Eddy. Explaining a parent's death to young children has to be one of the most heartbreaking and difficult things for a grieving spouse to do, but Dion approached it in a way she knew her children would understand: Dion used Up to explain her husband's death to the twins, according to People.
When Angélil passed away in January, Dion reportedly waited a few days before relaying the news to her twins. She threw them an Up-themed party, with balloons and glitter, then told them their father had "gone up" — he had floated up and away with the balloons and wouldn't be returning.
Dion told People that easing the twins into their father's death was "the thing I'm most proud of." She also explained another reason for phrasing Angélil's death the way she did, which is especially understandable considering that this was not Angélil's first battle with cancer:
I did not want to relate the passing to doctors and have them be afraid.
Dion and Angélil's relationship began as business — Angélil had been Dion's manager since she was 13 before the two married in 1994, and he remained an integral part of her career during their 21-year marriage. He was diagnosed with throat cancer for the first time in 1999, which returned in 2013. He underwent several operations and rounds of radiation, during which Dion took time off from her career.
In July 2015, Dion spoke with Taste of Life and hinted at her way of viewing the world, which explains her strength throughout Angélil's illness and her ability to speak to her children about it at their level:
Life is not always perfect. You have to deal with it. Whatever life imposes — sickness, or whatever, you don't have a choice. This is life, this is nature. But you do have the choice on how you're going to go through this. And if you don't have spirituality you're going to fall apart before things happen. I am very spiritual. I believe in myself, I believe in my family, and I'm positive. Through this, you show your children how to deal with things, and how to be strong.
Dion has definitely been selfless and has put her family first throughout Angélil's cancer and death, and I can't think of a better way to have approached it.