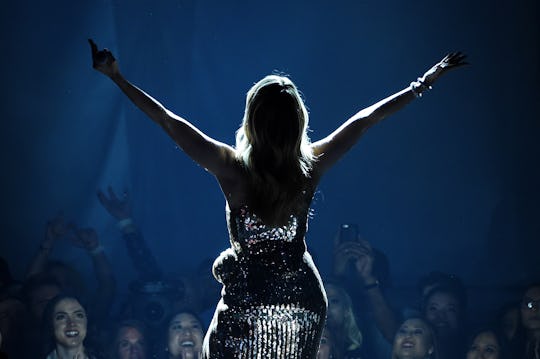 Kevin Winter/Getty
Celine Dion's Billboard Music Awards Performance Is The Most Powerful Of The Night
The 2016 Billboard Music Awards have shaped up to be an emotional and powerful night of performances, from Britney Spears's incredible medley of chart-toppers and Kesha's return to live television. But perhaps most emotional and powerful of all was Celine Dion's Billboard Music Awards performance covering Queen's "The Show Must Go On" on Sunday night. The performance is especially significant given that this is Dion's first live performance since the deaths of both her husband and brother in January of this year, just two days apart from each other.
This year opened particularly tragically for the 48-year-old Canadian musical superstar. Dion's husband of 22 years, René Angélil, died on Jan. 14 at the age of 74 from throat cancer. Two days later, Dion's brother, Daniel, died at the age of 59 — tragically from a form of cancer similar to Angélil's. Dressed in a beautifully draped, metallic, one-shoulder dress in silver and gold with a leg slit to rival Angelina Jolie or Jennifer Lopez, Dion took the stage backed by a full orchestra and choir, who also mashed up the Queen classic hit with strains of Beethoven's "Fifth Symphony." She was also joined by violinist and YouTube sensation, Lindsey Stirling, who also partnered with Dion for the recorded song.
Dion was honored Sunday night with Billboard's ICON Award. The ICON Award is given for lifetime achievement — and Dion is certainly deserving given her impressive career spanning 36 years. Dion has won five Grammy Awards, including Album of the Year and Record of the Year. Dion was introduced by fellow musical legend, Seal, who also spoke about Dion's many philanthropic endeavors with the Canadian Cystic Fibrosis Foundation and her fundraising efforts to help the victims of Hurricane Katrina in 2005.
Dion's moment on the stage was a truly emotionally raw performance as she completely owned her cover of the Queen hit song. The original song was written largely by Brian May, but chronicles Queen front man Freddie Mercury's battle with HIV/AIDS at the end of his life — a poignant choice for the French Canadian still reeling from the death of her husband and brother.
Following her stunning performance, Billboard surprised her by having her son, René-Charles, actually present her ICON Award to her on stage. The moment was incredibly emotional for everyone in attendance, as Dion spoke shaking and through tears:
I want to be so strong for my family and my kids. I don't want to cry in front of you, you make me so happy.
Now if you'll excuse me. I have to go buy more tissues.