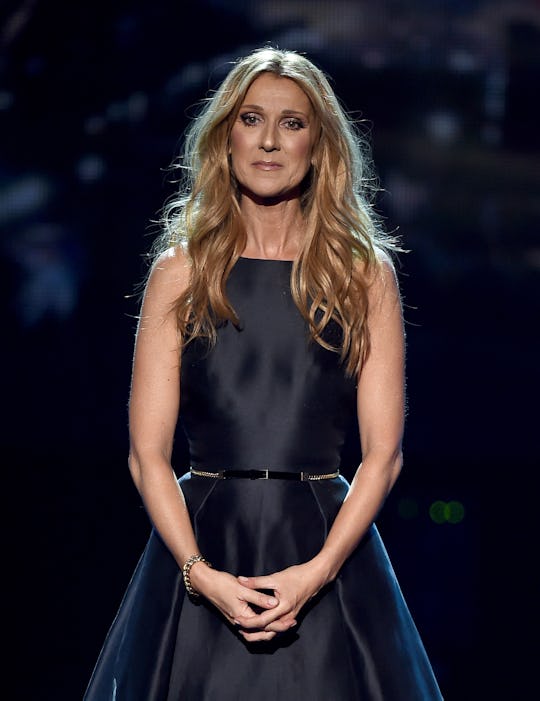 Getty Images
Celine Dion's Brother Daniel Dies 2 Days After Her Husband René Angélil
Just days after her husband, René Angélil, passed away, Celine Dion's brother died of the same type of cancer on Saturday. Daniel Dion had been suffering from throat, mouth, and brain cancer for years, according to a representative of the family. There will be a viewing for him next Saturday, the day after Angélil's funeral.
Her brother, 59, is one of Dion's 13 siblings and is survived by his wife and two daughters, who are Valérie and Marie-Michelle, who are 32 and 25-years old, respectively. Celine confirmed just after her husband's death that her brother did not have very long to live. He passed away at a hospice center in Quebec, while Celine is still in Las Vegas. A source close to Celine told the Montreal Gazette that it is, obviously a very hard time for the pop singer:
They're close, she's close with all of her siblings. It's hard. Céline is still in Vegas with her kids making plans for [her husband's] funeral. It's a typical grieving process. There's moments of shed tears, moments of memories and laughter. She's grieving the loss of her husband.
According to a statement from Celine Dion, her brother's "last days were in the wonderful care" at Maison Adhémar-Dion in Quebec.
Her husband's state funeral next week will be at the Notre Dame Basilica in Montreal same church he and Dion were married in, according to his final wishes. A wake will be held on Thursday that's open to the public. Quebec Premier Philippe Couillard has announced that they will also fly the flag at half mast the day of his funeral. Details about her brother's funeral services haven't been released since the announcement that he passed away this morning.
On social media, there's been an outpouring of support for Celine Dion suffering two major losses in just a matter of days:
Dion cancelled two performances in Las Vegas this weekend following the death of her husband, but she is scheduled to perform on February 23rd. There will also be a memorial for her husband on February 3rd at Little Caesar's Palace.
Image: Kevin Winter/Getty Images