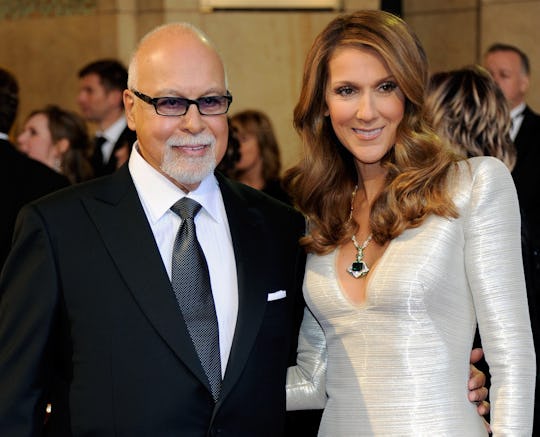 Ethan Miller/Getty Images
Celine Dion's Husband René Angélil Has Died Following A Brave Battle With Cancer
In a week filled with sad news comes more sad news. According to People, singer Celine Dion's husband René Angélil died on Thursday after a long battle with cancer. Together, the two have three children, René-Charles, 14, and 5-year-old twins Nelson and Eddy, as well as Angélil's children from a previous marriage.
The romance between these two was certainly grand, and proves the "My Heart Will Go On" singer is just as starry-eyed about love as her lyrics. She told E!, "I went to his office and I sang in front of him and I was 12 years old, and we've been working together since that time," recalling meeting her husband before she was even a teenager (he was 38 at the time). But when did she know it was love? She told Access Hollywood, "Maybe at 17, 18 years old, my feelings started to change for him. I kind of saw him differently."
Despite the age difference, the two had a special bond from the start. Dion said in 1995, a year after they married, "I'm not surprised that we married each other, because we have the same dreams."
And though she has called marriage "a lot of hard work," Dion stayed by her husband's side through difficult times, not only during his 20-year battle with cancer, but also the challenges of being married to your manager. "It wasn't always easy. We had tension between us. It's never easy being husband and wife, but add to that we are in business together, dealing with all the added pressures of shows, concerts, tours, traveling," she told Vegas Deluxe magazine in a 2013 interview.
After Angélil's initial 1999 diagnosis with throat cancer, he made a complete recovery. He and Dion famously renewed their marriage vows in an elaborate Vegas ceremony in 2000. At the time, the mom of three told People her secret to her lasting marriage:
Talk over everything and you'll find you are still on the honeymoon … communication – it's the most important. It's the secret.
Then, over a decade after Angélil had beat throat cancer, another tumor popped up in his throat in 2013. Though he had it removed, his cancer came back and more debilitating than before. Over the next two years, Angélil's health deteriorated. In 2014 Dion, who had booked headlining shows in Vegas, cancelled them all and took time off to care for her husband. Talking about the tragedy that cancer can wreak on people's lives, in 2015, Dion talked to ABC's Good Morning America and explained how her husband was suffering:
He can't use his mouth. He can't eat. So I feed him. He has a feeding tube. I have to feed him three times a day.
Today, Angélil has died at 73, and after fighting the vicious disease with his wife's support. Hopefully Dion is feeling the support of her thousands of fans in this difficult time.
Images: Ethan Miller/Getty Images; CelineDionVEVO/YouTube