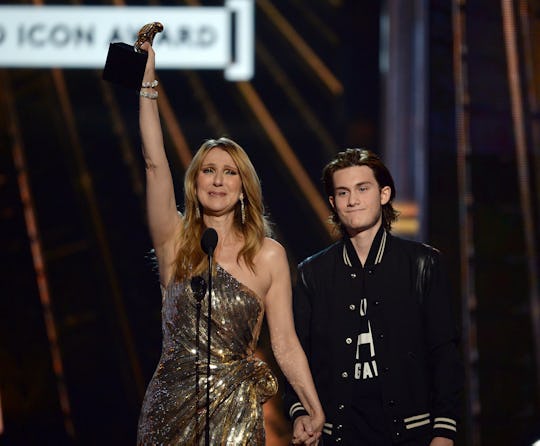 Kevin Winter/Getty Images Entertainment/Getty Images
Celine Dion's Son Presents Her With The Icon Award, & There Were So Many Tears
Celine Dion took the stage at the Billboard Music Awards Sunday night and performed a powerhouse version of Queen's "The Show Must Go On." The legendary singer had taken time out of her Las Vegas residency concert to grace everyone with her presence (naturally) and take home a lifetime achievement award. And, in a heartwarming twist, it was Celine Dion's son who presented the Icon Award to his mother. The surprise moved the legendary singer to tears, and, to be honest, everyone else as well.
"I'm so sorry. I'm sorry for crying. I want to be so strong for my family and my kids," the superstar told the crowd. "I don't want to cry in front of you, you make me so happy."
Sunday marked Dion's first performance on live television since her husband and former manager, René Angelil, died after a long battle with cancer. Introduced by Seal, Dion, clad in a sequin gown, performed with famed violinist Lindsey Stirling and a full orchestra. Her performance was stunning and emotional — exactly what you'd expect from the powerhouse singer.
Dion's song choice was particularly poignant in the wake of a year of loss. If anyone is the right person to cover "The Show Must Go On," it's the legendary singer. The "Heart Will Go On" singer lost both her husband and brother in the span of two days in January. In a stunning display of strength, Dion returned to her Las Vegas concert series the following month.
Dion spoke to People magazine about her loss this week. "I really, really want to prove to my kids their mother is strong," she revealed. "He left me with all of his strength." She continued,
Every day we live with him, just not physically. I'm thankful that he does not suffer anymore…René always insisted the show must go on.
After performing, Seal shocked Dion by announcing that her son, René-Charles Angelil, was going to be presenting her with the Icon award. The touching moment between mother and son at the Billboard Music Awards was incredibly sweet. In tears, Dion asked her 15-year-old son, René-Charles Angelil, to stand by her side and hold her hand while she delivered her acceptance speech.
The touching moment stole the hearts of fans, who documented their reactions on Twitter.
During her acceptance speech, Dion thanked her fans saying, "I want to thank the fans for traveling through music with me in good and bad times...All the people who believed in me." She continued thanking her family, her children, before finally thanking her late husband: "...Most importantly, my beloved husband who I know will continue to watch me from above."
"Rene, this one's for you," she finished. "The show must go on." Certainly, it seems that, for Dion, it will.