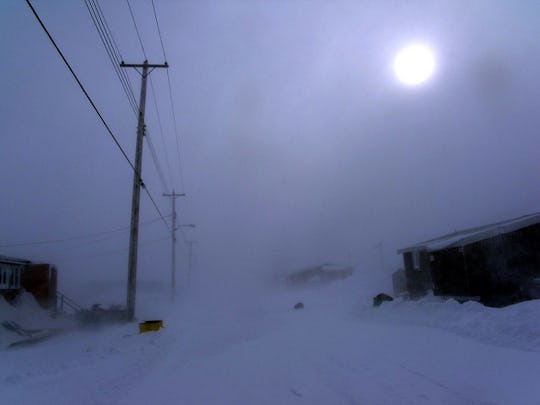 Mike Beauregard/Flickr
Central U.S. Braces For Storm — The First Huge (& Kinda Scary-Sounding) One Of The Season
Well, it's official: We've entered that time of year again — when weather reports have the ability to scare the crap out of us on a daily basis. Enter Blizzardnado, my unofficial name for the freaky and volatile storm currently descending on parts of the Central U.S., according to the National Weather Service (NWS). If forecasters are correct, this one will pack a pretty powerful punch — and it's expected to hit sometime Wednesday (aka today).
Not only is snow slated to fall across portions of the northern Rockies and Cascades today, but the NWS  has warned that "blizzard conditions are possible in parts of Colorado, Nebraska and Kansas." Oh, and did I mention forecasters at the Storm Prediction Center also stated hail and tornadoes are likely — especially across sections of eastern Nebraska, central and southern Iowa, northern Missouri and into Illinois? Yikes.
Snow is already blanketing portions of the western United States, with up to 10 inches of snow in parts of the Reno area, and blizzard conditions have already been reported along Interstate 70 and Interstate 76 east of Denver. While snowfall totals could be worse — some parts of Colorado will see up to 10 inches, with four to six more inches expected by Wednesday afternoon — snow isn't the only element of this storm.
What's that? You forgot about the tornados already? C'mon, how could you forget. Well a tornado watch is in effect in three states (Iowa, Missouri, and Kansas) through 6 P.M. CST.
Crazy, right? Well not so much. In fact, according to the Weather Channel, severe weather and tornado outbreaks are not unusual in November. In fact, November is considered a "second season" for severe weather, after spring.
So bundle up (and stay safe), inland friends — this doesn't look like a fun one.
Image: Mike Beauregard/Flickr