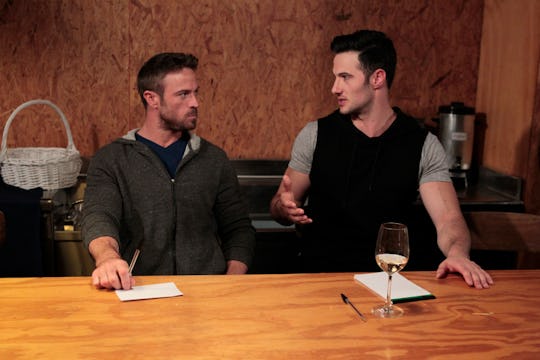 ABC/Rick Rowell
Chad & Daniel's Bromance On 'The Bachelorette' Is Normal, So The Guys Should Just Back Off
It's only been two week since Jo Jo Fletcher began her reign on The Bachelorette,, and already a villain has emerged among the men vying for her heart. And that would be Chad. In a short time, the luxury real estate agent has managed to make enemies in and out of the house. But Chad has managed to find one friend among a group of foes in the Canadian-bred Daniel. And while contestants may be quick to judge this relationship, it's important to remember that Chad and Daniel's bromance on The Bachelorette is normal and, to be honest, not a total shock.
The two first bonded much like the mean girls in high school — by badmouthing everyone around them. While the rest of the guys were throwing back beers and composing a song for Jo Jo, Chad and Daniel were discussing their hatred for nice guys (i.e. everyone else in the house.)
"I always warn girls, I always say, stay away from the nice guys," Chad told Daniel. "It's the nice guys that are actually *ssholes." Chad then threw in his love for fitness by comparing the rest of his housemates to poor ingredients in a protein shake. Because, yeah, that makes total sense.
Since then, the two have been seen feasting on meat plates and doing chin ups with a bicycle chains attached to their abs. And while this may seem weird to the other guys in the house (and even fans of the show), it makes sense.
Both Chad and Daniel are, for lack of a better term, outsiders. Chad's cocky attitude and need for Jo Jo's constant attention instantly alienated him from the other guys. Daniel, while not nearly as off putting as Chad, didn't help himself by commenting on Jo Jo's appearance right of the bat. With no one else to talk to and a shared interests in odd exercises, it made sense that two would pair up. And, come on, you can't be on a reality show without an ally, right?
But even though their housemates are rooting against them, Chad and Daniel (Chaniel? Dad?) have earned some love from the viewers.
I for one am fully supportive of this bromance. Because hey, if neither of them walk away with Jo Jo, at least they'll have each other. Right?