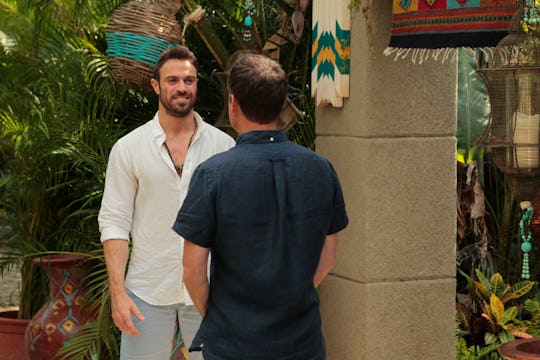 ABC/Rick Rowell
Chad Finally Exits 'Bachelor In Paradise' & Everyone Breathes A Sigh Of Relief
When Chad left The Bachelorette, we had a feeling he would be back – and he was, the next episode. Then he was back again on The Bachelorette: Men Tell All. Yet again, he was back eating deli meat and flexing his pecs on Bachelor in Paradise – but thankfully that did not last long. Chris Harrison kicked him off at the end of the premiere and Chad finally left Bachelor in Paradise, and the other contestants were more than okay with it.
It was clear from Chad's behavior as soon as he entered paradise that he has learned nothing from his prior experiences on The Bachelorette. He remained narcissistic and, even worse, belligerent and offensive. He turned off basically everyone in the house; even Daniel was getting tired of him. He resorted to threatening others, which made Chris Harrison give him the boot in record time. On Monday night's episode we saw the fallout and it was typical Chad: cursing, more threats, eating meat and drinking excessively.
As Chad was chauffeured into the sunset he muttered, "Dammit, do you know how many people I gotta kill." This is probably joking in Chad's mind, but it just exemplifies the violent behavior that got him kicked out. He also whined about how he will never be The Bachelor and pondered what he will do after this – which is funny, considering he confronted other Bachelorette contestants about being there for the "wrong reasons" like fame. Unless you actually believe Chad is on these shows to find love, there's definitely a trace of hypocrisy in his behavior (not shocking).
If we were relieved about Chad being told to go, we can only imagine how the other contestants on Bachelor in Paradise felt. There was a collective sigh of relief, until Leah from Ben's season came knocking asking where Chad was. She was apparently going to give him a date card. The other contestants saved Leah from herself – and more importantly, from Chad – and told her he left.
Thankfully, the producers did not use Leah as a way to shoehorn Chad back into the show or bring her in before Chad was whisked away. Is Hurricane Chad finally over? We can only hope, but given the fact that the Bachelorette always gave him the time of day – and all the charcuterie boards he can want – it may not be the last we see of him.