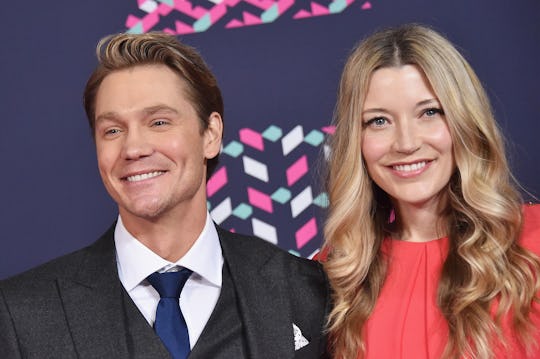 Mike Coppola/Getty Images Entertainment/Getty Images
Chad Michael Murray Shares Pic Of 2nd Child's Hand
Remember when Chad Michael Murray was just your teenage crush on One Tree Hill? Well, he's now all grown up and the father of two. Chad Michael Murray welcomed his second child with wife Sarah Roemer recently, and he announced his new daughter's birth with the cutest Instagram post ever.
On Monday night, Murray posted a picture of a tiny little hand gripping his finger and wrote: "Don't worry little girl you can hold on as tight as you want for as long as you want, I'm already yours & I'll never let go. I've now two incredible women in my life. My son & I are two lucky guys."
It was a heartwarming message, but a couple of details were noticeably missing — it looks like Murray and Roemer have chosen to keep their daughter's name and exact birthday private for now. The couple have also held off on sharing their 1-year-old son's name, but according to Refinery29, Murray and Roemer welcomed him into the world on May 31, 2015.
News that Roemer and Murray were expecting their second child only broke in November, according to E! News. The couple was married in a secret ceremony in late 2014 or early 2015, just a few months after they were first spotted dating. (As you may have noticed, Roemer and Murray are a fairly private couple.)
One thing Murray's been very forthcoming about, however, is how much he loves being a father. "For me, it was the greatest thing that's ever happened to me," he told Entertainment Tonight last year. "Having kids is a game changer and I think you're always walking around with the mentality that you want to make sure that they're proud and you want to represent them well and just be a great leader."
Murray has also spoken about slowing things down in the public eye now that he has a family. According to E! News, he told Bello Magazine in 2015:
I'm really good at staying under the radar these days. My wife and I, we don't go to the quote-unquote 'cool' places. We have our own life, we have our dogs, we have our lifestyle that we truly enjoy, and we've got a cabin if we want to get away and go camping. I feel very good about my private scene. I'm going to do everything I can to protect my family and go from there.
It looks like Murray and Roemer will now have one more little one to take on their camping trips. Congratulations to the happy family.