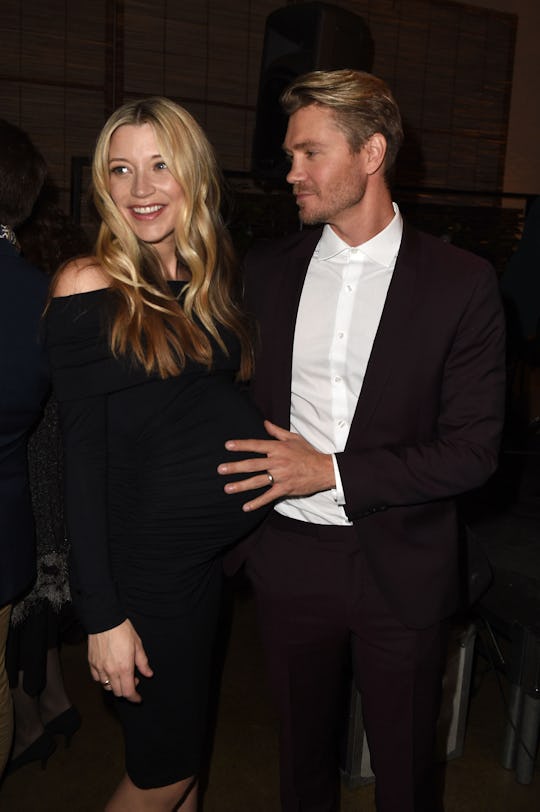 Joshua Blanchard/Getty Images Entertainment/Getty Images
Chad Michael Murray Shares First Baby Photo Of His Daughter
Almost two months to the day after the One Tree Hill alum announced he and wife Sarah Roemer welcomed a little girl to their brood, Chad Michael Murray shared the first baby photo of his new daughter. The 35-year-old actor and dad of two took to Instagram Monday, the day after Mother's Day, to show fans a glimpse of his newborn, whose name has not been revealed yet, nestled against her mom. In addition to the gorgeous image — which is actually part of an illustration of a heartwarming mother-daughter moment by artist Rashelle Stetman — Murray also penned a touching message to his wife and gushed over her motherly love.
"Our lives are made up of trillions of moments & sometimes we get lucky & capture one worth bringing to life for eternity," he captioned the Instagram post on Monday. "This is only a small part of the whole drawing (for privacy sake) but what the camera caught was the purest form of love in the world- A Mothers Love."
Murray went on to explain that Stetman was able to create the beautiful portrait through a photo that had been taken, which he then he gifted to the 32-year-old actress on Mother's Day.
He continued:
Sarah is the most incredible Mother I could have ever dreamed of to raise our kids with. Here is just a tiny morsel of the love she possesses as a mother. I am Blessed to spend every waking day with her... I spent the day pampering Sarah and not on my phone, thus why my Happy Mother's Day message came today instead of yesterday. To all the mothers in the world who truly love & who truly work to raise us up right- we love you all & thank you for every moment.
Although Murray is notoriously private about his personal life, the actor gave fans another peek of his little girl on Instagram with a sweet image of her tiny hand grasping his finger when first confirmed the exciting news of her arrival back in March.
"Don't worry little girl you can hold on as tight as you want for as long as you want, I'm already yours & I'll never let go," he wrote on Instagram two months ago. "I've now two incredible women in my life. My son & I are two lucky guys."
Murray and Roemer, who have been married since 2014, are also parents to an almost 2-year-old son, whose name has not been released either and has yet to grace our Instagram feeds since the couple hasn't shared any images of the toddler since his birth. While the proud papa has kept mum about his little ones' names, he told People earlier month that his son is "starting to warm up" to his little sister.
Even with these snippets of details into his personal life, it looks like Murray's heartthrob ways have stayed perfectly intact ever since he melted our hearts as the romantic Lucas Scott on One Tree Hill. Although fans want know more and see how cute his kids are, fatherhood certainly seems to suit him well and we'll do our best to wait patiently for their debut.