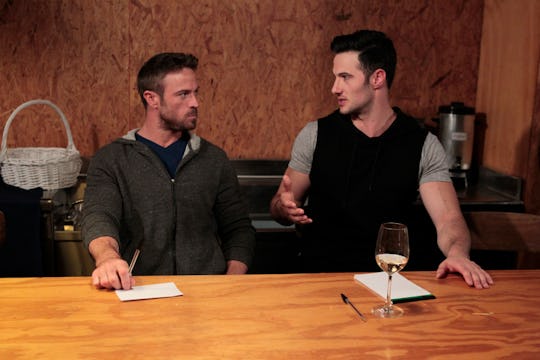 Rick Rowell/ABC
Chad's Funeral On 'The Bachelorette' Honors The Fallen Villain, But It Gets Interrupted
Bachelor Nation wasn't the only entity celebrating Chad's departure from the show. Everyone from the other contestants inside the mansion to production seemed to be in on it, because the dudes somehow managed to get their hands on celebratory poppers, a cake, and sparklers. Chad's funeral on The Bachelorette had some somber elements, too, complete with a farewell tune from James Taylor, a eulogy from Wells, and a scattering of protein powder ashes. But the festivities got interrupted by...you guessed it: Chad.
On a trip to Nemacolin, Pennsylvania, JoJo found herself on a two-on-one date with mortal enemies Chad and Alex. The latter, miraculously, convinced her that Chad was a bad, violent, threatening guy, and JoJo finally sent him home. Back at the house, the guys see a production assistant grab Chad's bag to take away, so they know that he's the one who got cut.
"Gentlemen, we are gathered here today to celebrate arguably the worst person anyone has ever met," began Wells' eulogy for his fallen enemy. "Tonight, we say farewell to quite literally the [expletive] person who has ever been on either The Bachelor or The Bachelorette. Chad: farewell, sweet prince. Death to tyrants."
Each of the guys took a handful of Chad's protein powder and scattered it to the wind, before Wells drop-kicked the enormous empty container into the woods. d
But as soon as they walk back inside the house, Chad is waiting at the front door, creepily making horror movie noises against the glass. Jordan confronts him and tries to make peace (because what else can you do when the Chad-bear wanders into your camp at night?), saying:
"I understand what it would be like to have a group of people not see things the way you see things. Let's have an opportunity, right here, where we can say sorry, if anything came off [badly] on our end as far as not understanding you, because that's a difficult place for us as well. So if you want to take this opportunity to be genuinely sorry, that would be great for all of us moving on."
Chad's winning response? Well it clearly wasn't an apology. Said Chad:
"Like I've said all along, I'm going to say what I want to say when I want to say it. Looking back, I would still say the same damn things. When you all attack me, there's absolutely nothing that I can do. The only thing I could think of was literally to get physical...Here's the deal: You all put me in a position where I had to say things that I wouldn't normally say."
Jordan tries to apologize again and shake on it, but Chad continues to shirk responsibility for his actions and threats, saying he was forced into making them because he felt attacked. (Newsflash, Chad: that's not how feelings work.)
"I was expecting a reasonable reaction from a very unreasonable and frankly unstable person," Jordan admitted in a cutaway interview. No one could have said it better.