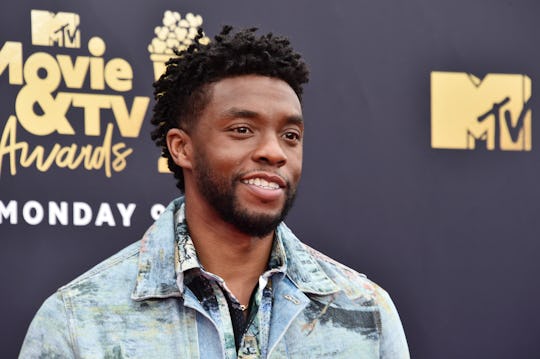 Alberto E. Rodriguez/Getty Images Entertainment/Getty Images
Chadwick Boseman Gave IRL Hero James Shaw Jr. His MTV Movie & TV Award, & It Was Beautiful
Those who tuned into the the 2018 MTV Movie & TV Awards on Monday evening were pumped to see who would take home the night's biggest honors. Among the long list of categories was "Best Hero," and let me say, there were some serious contenders. What no one expected, though, was to whom the award would ultimately go. That's because Chadwick Boseman gave James Shaw Jr., a real-life hero who stepped in and stopped a deadly shooting at a Waffle House, his MTV Movie & TV Award for "Best Hero" on Monday night, according to Entertainment Tonight. And, as you might expect, it was pretty much the best thing ever.
As Us Weekly reported, the official nominees for "Best Hero" included: Gal Gadot as Wonder Woman in Wonder Woman, Grant Gustin as Barry Allen/The Flash in The Flash, Daisy Ridley as Rey in Star Wars: The Last Jedi, Emilia Clarke as Daenerys Targaryen in Game of Thrones, and Chadwick Boseman as T'Challa/Black Panther in Black Panther. When Boseman's name was announced, he took to the podium and surprised everyone with what he had to say. "Thank you to the fans. You made this movie special," he said to an excited audience. "... So thank you so much for what you did." He continued:
Receiving an award for playing a super hero is amazing. But it's even greater to acknowledge the heroes that we have in real life. So I just want to acknowledge somebody that's here today. James Shaw Jr., where are you? Stand. You didn't even now we were about to do this, did you? If you don't know James Shaw Jr., he fought off a gunman in Antioch, Tennessee, at a Waffle House. He saved lives. Come on up here.
"This is going to live at your house," Boseman told Shaw, after handing over the trophy when he joined him on stage. (I'm not crying, you're crying.)
And if that wasn't enough, Boseman also posted a touching tribute on Facebook in honor of Shaw. "THANK YOU #MTVAwards! #BlackPanther fans, you're incredible," the actor tweeted, alongside a photo of himself and Shaw with the award. "During the show, I was honored to meet @JamesShawJr9. He saved countless lives by tackling a gunman who opened fire on people in Antioch, Tennessee in April. He's a true hero that walks among us."
Let's just say Twitter was totally inspired by this generous act. "Best thing ever. Ever," one Twitter user wrote simply.
Another person tweeted, "Chadwick Boseman acknowledging James Shaw Jr. and bringing him on stage and GIVING HIM HIS HERO AWARD is the greatest moment I've ever seen on television."⁠
"So much respect to chadwick boseman for giving his award to james shaw jr and recognizing his heroism," yet another person tweeted.
Another Twitter user chimed in with, "Chadwick Boseman won the "Best Hero" award AT THE MTV AWARDS & then gave it to the man who fought off the guman from the Waffle House in Tennessee...THAT IS BLACK EXCELLENCE AT IT'S FINEST! He acknowledged real life black excellence during 1 of the whitest platforms in America."
Back in April, James Shaw Jr. confronted a naked gunman who had entered a Waffle House in Antioch, Tennessee and opened fire, NPR reported. Even though six people were shot during the attack, Shaw was able to disarm the shooter. Unfortunately, four of the victims died from their injuries; however, Shaw's brave actions likely saved countless other lives that day. "I'm not a hero. I'm just a regular person," said James Shaw Jr., 29, who is father of a young girl. "I think anybody could've did what I did if they're just pushed in that kind of cage," Shaw added, according to NPR, while at a press conference at the time, "and you have to either react or you're going to, you know, fold."