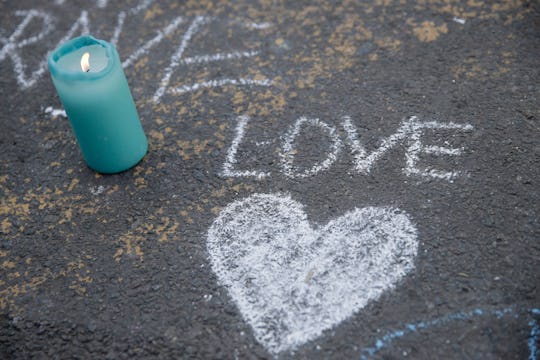 KENZO TRIBOUILLARD/Getty
Chalk Drawings On Brussels' Street Are One Of The Most Touching Tributes Following The Attacks
On Tuesday morning, ISIS unleashed three attacks on Brussels, Belgium that left 34 people dead, more than 170 people injured, and hundreds of thousands of people in shock, fear, and sadness. Following the attacks, which occurred around 8 a.m. and 9 a.m. local time, people around the world came together and showed their support for Brussels through a series of social media statuses and cries for peace. But nowhere was the unity more evident than Brussels' Bourse Square. Hundreds gathered in the center of the city to create chalk drawings on Brussels' streets that are equally moving and meaningful.
As Time reported, Bourse Square is close to the locations of the three explosions that occurred in Brussels this morning. The first two explosions took place at Zaventem airport and the third took place at a metro station in Maelbeek, which are nine and two miles from Bourse Square, respectably. The art work, which has slowly been taking over the streets, varies from artist to artist, but the many echo similar messages, such as "Terror has no religion," "We are not born to one corner. The whole world is my native land," and "I love Brussels."
Some used this as an an opportunity to come together and unite through other forms of art.
Some even used sent messages of strength through their chalk art.
Many, however, have used the street art to show their unwavering love for Brussels.
These images prove that are really is a powerful medium, and that the people of Brussels will get through this tragedy.
The story is developing. . .