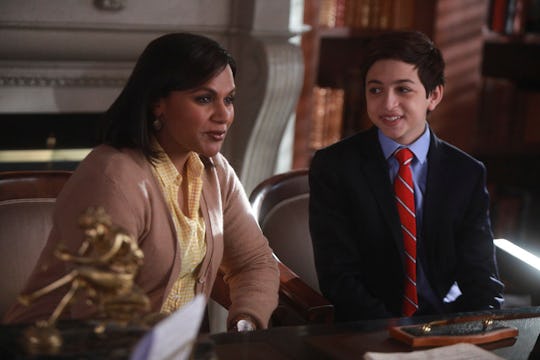 Jordin Althaus/NBC
'Champions' Star Josie Totah Comes Out As Transgender In An Honest & Brave Essay
Fans of NBC's Champions are well aware that Michael Patel's character — a half-Indian 15-year-old who moves to New York to live with his father who previously didn't even know he existed — is gay. (I mean, this is revealed almost immediately on the sitcom, after all.) And in real life, it was widely assumed the actor behind Michael's character was also a member of the LGBTQ community — specifically, a gay male. As it turns out, this actor's identity has been mislabeled for pretty much her entire life. Because Champions star Josie Totah came out as transgender in an honest and brave essay.
On Monday, TIME published a personal essay written by Totah, in which she came out as a transgender female. The former Disney actor explained that throughout her childhood, others would just assume she was gay. Even when she entered the entertainment industry, people kept assuming her identity.
"Numerous reporters have asked me in interviews how it feels to be a young gay man. I was even introduced that way before receiving an award from an LGBTQ+ rights organization," Totah wrote in TIME. "I understand that they didn't really know better," Totah went on to write. "I almost felt like I owed it to everybody to be that gay boy. But that has never been the way I think of myself."
Until today, Totah never corrected the assumption that she was a gay male. "I was afraid I wouldn't be accepted, that I would be embarrassed, that the fans who knew me from the time when I acted in a Disney show would be confused," she wrote for TIME. However, the actor has made the decision to be completely open about how she identifies because she has come to realize, as she wrote in her TIME essay, that "hiding my true self is not healthy." To make sure her message was heard loud and clear, Totah didn't mince words in her coming out essay, writing:
My pronouns are she, her and hers. I identify as female, specifically as a transgender female. And my name is Josie Totah.
E! News reported that Totah knew from a young age that she was different, but that it all clicked when she was watching I Am Jazz, a TLC docuseries that features a transgender teen named Jazz Jennings. "As I learned more information about hormone replacement therapy, I knew that this was what I had to do," Totah wrote for TIME. "I looked over at [my mother] in the middle of the show and said, 'This is me. I'm transgender. And I need to go through this.' My mother, who is immensely supportive and gracious, said, 'OK, let's do it.' Three days later I was meeting with my pediatrician, who referred me to a specialist, who put me on a hormone blocker. From that point on, I hit the ground running."
Totah also took to Twitter on Monday to share the link to her TIME essay with followers. "For so long I've been trying to hide who I was. And I did it in fear. In fear that I wouldn't be accepted or loved," the former Glee star tweeted. "I know now more than ever I'm ready to take the step to becoming myself. I am Transgender and this is my story."
The response on Twitter has been overwhelmingly positive. Danny Deraney, for example, wrote, "Thank you for speaking out. What you are doing now by opening up is not only courageous, but giving a voice to so many people who feel helpless. You are a true warrior and a gift to all of humanity. Shine Josie. Shine."
Mason Cook wrote, "To us you have always been you and you is who we like. But I'm so glad that you get to be YOU for YOU now!"
Yet another Twitter user wrote, "Congratulations on feeling free enough and safe enough to openly live your truth. Now you can inspire other trans youth to find that truth for themselves!"
Totah's Champions co-star — and one of the show's creators — Mindy Kaling also shared her support for the teen via Twitter. "I love you, Josie. I'm so glad you're able to speak your truth and live as your authentic self," Kaling tweeted. "You're also so damn talented - I can't wait to write for you again!"
Personally, I think Josie's coming out is so, so brave. And although NBC canceled Champions after just one season, according to Variety, I'm looking forward to what her acting career still has in store for her. I wish Josie the best as she moves forward in life — and heads off to college in just a few days — finally presenting her true self to the world.