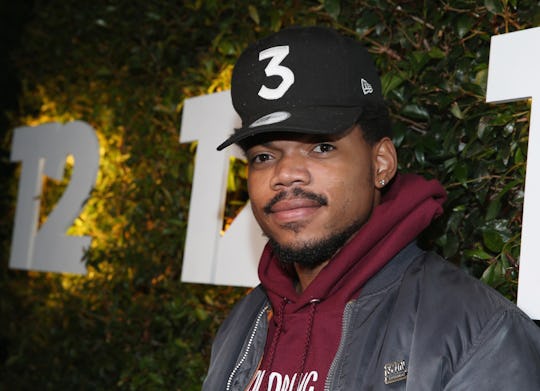 Jonathan Leibson/Getty Images Entertainment/Getty Images
This Video Of Chance The Rapper Dancing For His Daughter Will Make Your Day
Little Kensli Bennett turned 2 years old on Saturday and her father threw her quite the birthday party. She and her friends were treated to a medley of iconic children's TV and movie characters, along with some dancing featuring her proud papa. And this video of Chance the Rapper dancing for his daughter on her birthday will make your day so much better.
Chance — whose real name Chancelor Bennett — and on-again-off-again girlfriend Kristen Corley welcomed baby Kensli to the world on Sept. 16, 2015. After keeping details of his personal and family life private in the beginning, the rapper has since spoken out about the profound impact that his little girl has had on his life.
Two short years later, Chance threw the party of a lifetime for little Kensli and posted a photo and a short video of the celebration on Instagram. In the video, viewers are treated to footage of Chance dancing a choreographed routine with a number of TV and movie characters that were presumably hired to entertain the children, including Elsa from Frozen and a Minion from Despicable Me.
Along with the video, Chance also shared a sweet birthday photo of him and Kensli to Instagram. He captioned it:
Since my life really began with her, I guess I turn 2 at midnight ‍TURN UPPPP FOR MY DAUGHTER
The world was first introduced to Kensli this past December when Chance posted his first photo of her to Instagram. He captioned the photo of then-15-month-old Kensli:
This is the girl who reintroduced me to God. She's the woman who reminded me how to be a man, and taught me how to love. She is everything I am but much better. I can't wait for her to one day help the world the way she has helped me.
Since then, Chance's Instagram page has been flooded with photos of him and his daughter that make his love for her so obvious. He has shared photos of Kensli at Disney World, of the two playing in what appears to be their home, and at the NBA playoffs. Honestly, no matter where the photos are taken, the two always seem to be having a great time together.
As POPSUGAR reported, Chance's relationship with Corley has been famously on and off in recent years, but their continued and consistent co-parenting of Kensli has always been something to admire. In another sweet Instagram photo of his daughter, Chance thanked Corley for her role in blessing the world with their baby girl:
Nothing I'm doing currently would be possible without this girl right here. She's so kind and loving and brilliant and beautiful. And I wouldn't have her without her mother, so thank you for creating and raising the greatest gift I've ever received. Cannot wait to get back to this.
Time and again Chance has made it clear that Kensli changed his life when she was born. In an interview with Pharrell Williams on his OTHERtone radio show on Beats 1, Chance told him that he didn't fully understand what love was until he met his little girl:
I didn't know its bounds. Not to be corny, but you can love somebody through anything when they're your child. Now that I understand that, it makes me work better with people. It makes me more understanding of how much dedication and love I can put into each line. There's no throw away lines.
Along with an abundance of love for his own child, Chance has also shown his love and investment in children as a whole. In March of this year, he launched an arts and literature fund for his hometown of Chicago's public school system, to which he donated an impressive $1 million of his own money.
Through Chance's Instagram posts of Kensli's special day, everyone was treated to something special this weekend. Thank heavens for the beauty of the internet, right?
Watch Romper's new video series, Romper's Doula Diaries:
Check out the entire Romper's Doula Diaries series and other videos on Facebook and the Bustle app across Apple TV, Roku, and Amazon Fire TV.