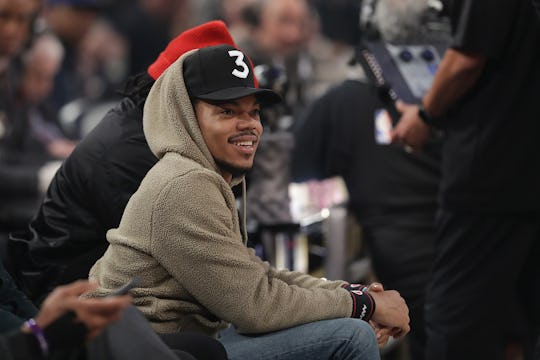 Ronald Martinez/Getty Images Sport/Getty Images
Chance The Rapper Gives Back To Chicago Schools
Public schools have been under assault lately (looking at you, Betsy DeVos), but now, they have an ardent new defender. Super-talented and adorable human Chance the Rapper will donate $1 million to Chicago Public Schools, as he announced at a press conference at Westcott Elementary School in Chicago on Monday. So if he wasn't already one of your favorite people, it's time to reconsider.
Chance has long been an outspoken advocate for Chicago, where he grew up. And this is the latest example of him using his celebrity for good: After Chance won three Grammys, including one for Best New Artist, the Republican governor of Illinois, Bruce Rauner, tweeted congratulations at him. Chance responded by asking for a meeting to discuss the public school situation in the city. (Hint: schools need a lot more funding than they're getting.)
The one-on-one sit-down happened on Friday and did not go so well, prompting Chance to hold a press conference calling Rauner out, saying, "Our kids should not be held hostage because of political positions." Chance also expressed that Rauner had given him "vague" answers about possible reform, called on the governor to "do your job," and announced his own donation to CPS as a "call to action" that he hopes will inspire business leaders in the community to do the same.
Chance's donation will help fund arts programming at a time when the public schools are considering budget cuts that will affect after school activities and potentially shorten the school year, among other things. Chicago schools have been suffering under a two-year standoff about the budget and, as is usually the way with these things, low-income kids have been suffering the most.
In their meeting, Chance reportedly encouraged the governor to follow through on a pledge to give schools $250 million. On Monday, Rauner responded to the meeting with Chance by announcing a couple of proposals, although the Chicago Tribune described the proposals as "a way to respond to public pressure from Chance the Rapper while also putting the onus elsewhere," so it seems there's still a lot of work to be done, and a lot of pressure to be applied.
In the meantime, Chance's donation has drawn greater national attention to the issue. Even former first lady Michelle Obama thanked him on Twitter, saying, "You are an example of the power of arts education."
Obviously, not everyone can donate $1 million, but for those interested in learning more about how to help, Chance has updated his website with handy information about supporting Chicago Public Schools.