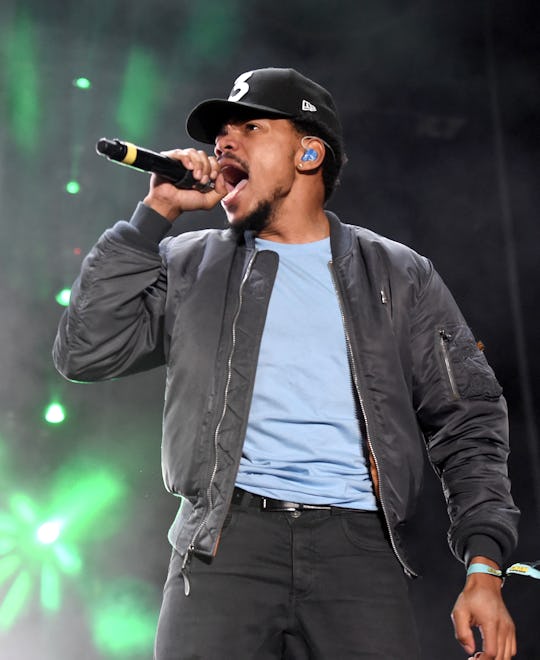 Kevin Winter/Getty Images Entertainment/Getty Images
Chance The Rapper's Daughter Met The Obamas
Many celebrities opt to keep their children out of the spotlight for privacy reasons, but more than a year after she was born, Chance the Rapper decided to introduce his daughter, Kensli, to the word via social media. Given that many of his fans had been curious about his daughter since Chance announced her birth back in Sept. 2015, according to People, it seemed inevitable that her first photo would be a big deal. So after Chance The Rapper's daughter met the Obamas at the White House, it seemed totally fitting that he'd choose to share a photo with President Obama and the First Lady.
In the pic, Chance can be seen holding Kensli while standing with President Obama and Michelle Obama on either side of them. And although Kensli doesn't look particularly impressed (and maybe even slightly concerned by the photo op), Chance's face more than makes up for it, because honestly, he looks so thrilled. And for good reason: not only is Chance a big fan of the Obamas, it turns out that they are a big fan of his too. In an August interview with GQ, Chance said that Malia Obama likes his mixtape, Coloring Book, and that, after a meeting with President Obama at the White House back in April, the two men sat down for a chat — and Obama even passed on some career advice (no big deal):
He told me I needed to start selling my music. He's a good man. Even if he wasn't president, if his ass worked at, like, Red Lobster, he'd be just a good man working at Red Lobster.
Then there was the 94th annual lighting of the National Christmas Tree, where Chance performed for an audience which included the President and First Lady, as well as their daughter Sasha, according to Mashable. And though Chance may have told GQ that Malia was a fan, the fact that Sasha appeared to know every single word of Chance's "Sunday Candy," suggests that the Obamas' love for his music is definitely a family affair.
Chance shared the photo as part of a series of pics and videos of his daughter he uploaded Saturday, according to People. Although the rapper didn't indicate why he decided to post publicly about his daughter after staying mum for so long, it's definitely clear from his posts that he is totally in love with his little girl, and with fatherhood in general. In addition to the photo with the Obamas, Chance posted a sweet snap of Kensli dressed in a lion suit, and wrote in the photo's caption that she was "the girl who reintroduced [him] to God." He wrote,
She's the woman who reminded me how to be a man, and taught me how to love. She is everything I am but much better. I can't wait for her to one day help the world the way she has helped me.
He also posted a video clip of little Kensli playing the harmonica, making it pretty clear that she has inherited her father's musical talent:
Perhaps the most touching post though was a funny black and white clip of Chance lying in bed with his little girl, who babbled away while her dad looked on. In the video's caption, Chance wrote about his profound love for his daughter:
Ima cry. Dads know you can't/won't get this love anywhere else. We are the chosen few, the responsibility is heavy but duty is an honor. Mothers better know it ain't one thing in this world we can without you. Thank you to her mother, my mother and God for making all things possible. I can't wait to get back to this
At only 23, Chance the Rapper has already achieved a pretty impressive level of success, and being able to count the First Family as fans of your music has to feel pretty cool. But judging by his posts, it's clear that his main priority is really his daughter, Kensli, and that his role as a dad is really number one.