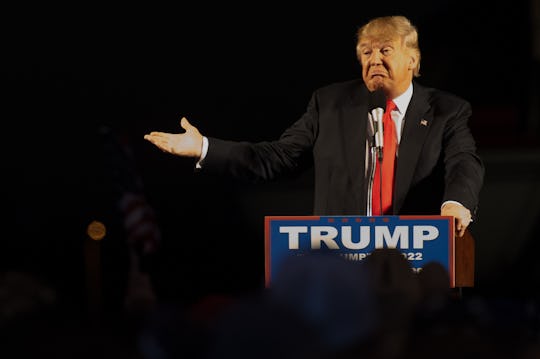 MICHAEL B. THOMAS/AFP/Getty Images
Chances Donald Trump Will Win Super Tuesday Are Actually Pretty High
Now that the Oscars are behind us, it's time to shift our focus back to nominations that are bit more important right now: The Democratic and GOP races for their respective party nominations. In the GOP race for the nomination, only five candidates remain: former neurosurgeon Ben Carson, Texas Sen. Ted Cruz, Ohio Gov. John Kasich, Florida Sen. Marco Rubio, and millionaire mogul Donald Trump. After surprising wins in Nevada and South Carolina last week, there's a very good chance Donald Trump will win Super Tuesday with big polling numbers. Trump is polling with a 33-point lead for Super Tuesday according to a CNN/ORC poll released Monday morning. Kasich has predicted Trump will win all of the Super Tuesday states — a surprising comment from a fellow presidential hopeful.
As the spotlight turns to 12 states and one territory on March 1, Super Tuesday marks the start of the major nomination numbers game, as delegate counts and winner-take-all states suddenly become hot statistical commodities throughout the month of March. It's entirely possible for campaigns to live or die by mid-March based on the amount of delegates each candidate is able to accrue in the massive number of states that vote in the first half of the month, beginning with Super Tuesday.
In an interview on CBS's Face the Nation on Sunday, fellow GOP candidate Cruz commented on how the GOP nomination could play out if Trump wins big on Super Tuesday: "There is no doubt that if Donald steamrolls through Super Tuesday, wins everywhere with big margins, that he may well be unstoppable." Despite the high stakes, Cruz said on Face the Nation that he doesn't think Trump will sweep Super Tuesday, a thought that seems more in line for a competitor compared to Kasich's assertion that Super Tuesday is a lock for Trump.
David Wasserman, writing for the statistically reliable news site FiveThirtyEight, agrees that Trump could be unstoppable in as little as just three week's time by winning "majorities of delegates without winning majorities of voters" but noted that it's all about the numbers during these first two weeks of March. During that time, 52 percent of Republican delegates will be doled out in winner-take-all contests after Super Tuesday, thus "keeping alive the possibility that a large early Trump delegate lead could be erased quickly by modest losses later."
The seemingly unbelievable meteoric rise of Donald Trump has the Republican party running scared of the increasingly likely possibility that this 69-year-old real estate mogul — who has exactly zero political experience and dangerously unfiltered rhetoric — could actually snag the GOP nomination in July. This is one of those rare instances where I actually empathize with the Republican party, as the reality of a Trump nomination heading into November is pretty terrifying.
But then again, I'm not sure which is really more frightening: A Trump nomination, or the fact that this year's presidential election cycle feels more like some bizarre version of Whose Line Is It Anyway, where everything is made up, but the points really do matter.