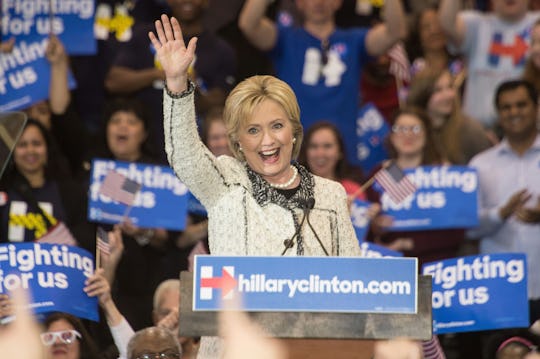 NICHOLAS KAMM/AFP/Getty Images
Chances Hillary Clinton Will Win Super Tuesday Are Looking Pretty Good
Big wins on Super Tuesday are critical to every campaign. With the most delegates at stake so far during primary season, victory in a number of states can give presidential hopefuls enormous momentum going into March. Chances Hillary Clinton could win Super Tuesday are looking pretty solid, but nothing is for sure yet.
Clinton is expected to dominate in three states, according to CBS News. Based on polls of likely Democratic primary voters, she's up by 28 points in Georgia, 20 points in Virginia, and 24 points in Texas. Though Vermont Sen. Bernie Sanders continued to command the under-30 demographic, three in four African American voters in Georgia, Virginia, and Texas stand with Clinton. Both are polling well with the Latino community, though The Wall Street Journal reported that Clinton had a slight edge. In Texas, she beat Sanders among likely Latino voters by five points. Sanders is counting on a win in Vermont and hoping to take both Colorado and Minnesota.
Clinton won South Carolina Saturday, earning 39 delegates; Sanders walked away with 14, according to The New York Times. Earlier in February, Clinton kicked off primary season with a narrow win in Iowa; she and Sanders walked away with nearly the same number of delegates (23 and 21, respectively). Sanders won in New Hampshire on Feb. 9, but Clinton recovered by taking Nevada on Feb. 20.
A Democratic candidate needs 2,383 delegates to win their party's nomination, The New York Times reported. Clinton has 544 so far; Sanders has 85. Though Clinton enters Super Tuesday with high expectations, there's still time for Sanders to catch up. Super Tuesday includes Democratic events in 11 states and American Samoa, and Democrats abroad will vote the same day. The candidates won't have much time to regroup before two more days of Democratic primaries and caucuses later in the week: Kansas, Louisiana, and Nebraska on Friday followed by Maine on Saturday.
On the GOP side, Donald Trump is expected to fare best on Super Tuesday. A CNN/ORC poll found that 49 percent of those polled support Trump. Florida Sen. Marco Rubio sits all the way back at 16 percent, with Texas Sen. Ted Cruz close behind at 15 percent. The same poll found that Trump's supporters show a spike in election enthusiasm over past years. He also leads in estimations of problem-solving capability, understanding of problems facing the American people, and ability to successfully run the country (that's not a joke).
Though Clinton and Trump are likely to be the victors on Super Tuesday, this election continually reminds the nation that anything can happen.