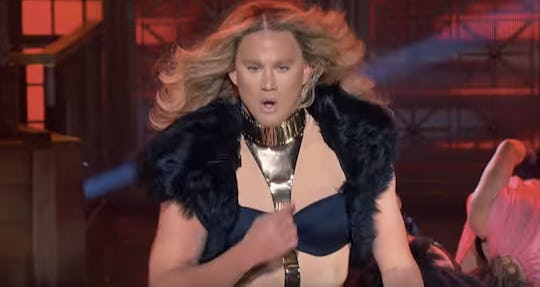 Channing Tatum & Beyonce Show Jenna Dewan-Tatum Who Really Runs The World In 'Lip Sync Battle'
If you need a little Friday pick-me-up, let Channing Tatum and Beyoncé perform "Run The World" on Lip Sync Battle do the trick. Man, does he have moves. At first it's just a silly little dance with Channing in a wig, but when Beyoncé pops out on stage and does her characteristic Beyoncé dance, it takes the performance to a whole new level. Even better? Jenna Dewan-Tatum's face when she realizes what's going on.
Because up until that point, it sort of looked like the actress and dancer killed her husband in the competition. Ginuwine's "Pony" might be one of the dirtiest songs to dance to, but somehow Dewan pulls it off — she manages to look sexy and like the girl next door all at the same time, even humping the dance floor.
Even though her hubby knows he has Beyoncé on his team later, he's still completely amazed by his wife's moves. He looks genuinely stunned as his wife gives him a lap dance, rips off her shirt, and mock grabs his crotch on national television. Dewan is actually a professional dancer, according to her IMDb page. She's started her career as a back up dancer for Janet Jackson, and has worked with other dance heavy artists like Christina Aguilera and Missy Elliot, so she knows what's up. Here's how the competition went down in GIF summary.
It Starts Off With A Lot Of Humping
And Carries On Like That
And Some Fancy Footwork
The Best Part Is How Much Chrissy Teigen Loves This Whole Thing
*Enter Shocked Emoji Face Here*
Jenna Is Amused & Then Horrified At Her Hubby's Look
But He Has Some Fancy Feet, Too
He Tries To Sex It Up
But What's Sexier Than Beyonce?
& Jenna Reacts Just Like You Would
Like, Just Like You
It's A Serious Dance Party
& They Pretty Much Nail It
Of Course, You Must Bow Down To Queen B
But Really, Jenna Dewan-Tatum's Reaction
Because Channing In A Wig Is The Only Thing That Could Rival The Queen
Image: Youtube (2); Giphy (15)