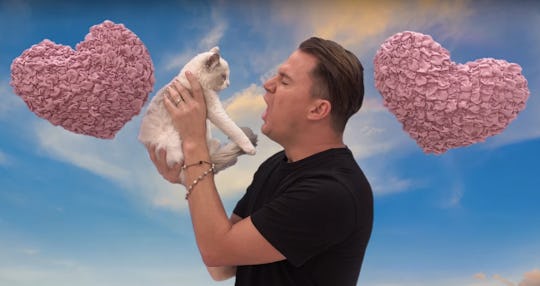 Channing Tatum Insulting A Kitten On 'Jimmy Kimmel' Is The Most Charming Thing You'll See Today — VIDEO
Ready for your daily dose of weird? Channing Tatum insulted a kitten on Jimmy Kimmel Live, and the internet is freaking out. If you're skeptical of the concept, just know that there's a twist ending. (Spoiler alert: The kitten comes out on top). Much to the audience's understandable disappointment, Tatum wasn't actually on set for this sh*t-talking sesh with a kitty friend. Instead, the short video was created because he couldn't be there in person for Kimmel's The Hateful Eight cast show. Somehow, his desire to be involved turned into almost two minutes of kitten-fueled silliness, and no one is complaining.
"We came up with a weird idea that, I won't say that it needs no introduction, all I will say is that it wouldn't make any more sense if it had one," Kimmel says as he introduces the video. Set to the music reminiscent of an old Western movie, Tatum slings insults at the kitten while perched on a fluffy chair beneath a rainbow. Totally absurd, but maybe worth it in the end?
According to IMDB, The Hateful Eight follows bounty hunters in "post-Civil War Wyoming." Besides Channing Tatum, the cast includes Samuel L. Jackson, Kurt Russell, and Bruce Dern. We totally get why Tatum didn't want to completely miss the cast show. And it's good that he didn't, because his appearance offered plenty of funny moments:
His Delightfully Comfy Room
This is basically my childhood bedroom. This is also what I want to believe Channing Tatum's bedroom looks like.
Super-Close Kitten Face Time
When you don't hear what he's saying, he actually looks like he's a little bit in love with the kitty.
And He Does A Pretty Good Imitation Of A Kitten
That's how it's done.
Watch Tatum get goofy here:
Wacky? Yes. But it's impossible not to love Channing Tatum, and at least the kitten got the last laugh.
Images: Giphy.com(1,2,3); Jimmy Kimmel Live/YouTube(4)