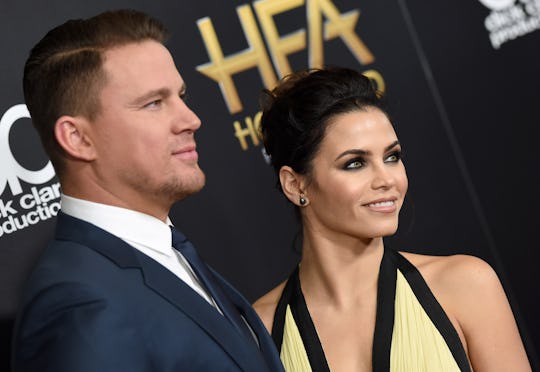 Channing Tatum & Jenna Dewan-Tatum Might Be Expecting Their Second Child
Brace yourself: Big baby news may be coming. According to OK!, Channing Tatum and Jenna Dewan-Tatum are pregnant with their second child. The Magic Mike star and his wife already have a 2-year-old daughter, Everly, but if this news is true, the Tatum clan will soon go from a family of three to a family of four. It should be noted that the couple has not confirmed or denied these reports, nor have they made personal announcements, but a source told In Touch magazine the two are "already in total baby bliss."
In August 2015, the couple was asked if they planned to expand their family. Dewan-Tatum told E! News, "Yeah, yeah, [I want to have more children]! I don't know when, but we definitely want to." Plus who wouldn't want to with Channing who, according to Dewan-Tatum, is an "amazing father." (Aw!)
Rumors of the couple's pregnancy began swirling just over a week ago when Channing posted two photos to his Instagram account. The first was a pic of his wife and daughter reading Yoda Gets A Buddy — which obviously implies they are teaching Everly how to be a good older sister. (I mean, obvi...right? Am I right?) And the second shot was one of his gorgeous wife sporting a mermaid tale and, some outlets argue, a baby bump.
Maybe the couple, who met on the set of the 2006 dance movie Step Up, finally got their wish, or maybe Everly is just getting a pet? But either way, best of luck in 2016, Tatums!
Images: Axelie/Bauer-Griffin/Getty Images Entertainment; Channing Tatum/Instagram