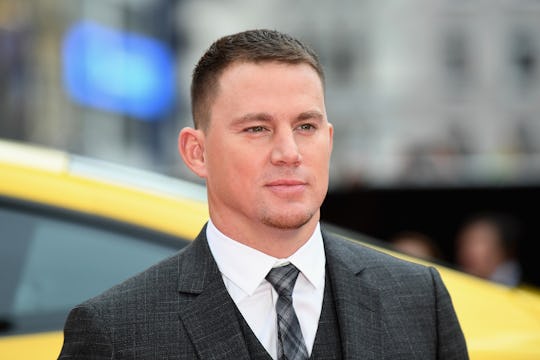 Stuart C. Wilson/Getty Images Entertainment/Getty Images
Channing Tatum Made Some Sticky Slime With His Daughter & Yup, Things Got Messy
Kids across the internet are obsessed with sticky, gooey, slime; making it, touching it, and filming the experience — they can't get enough. And sometimes, parents get sucked into the craze. The past weekend, Channing Tatum made slime with his daughter Everly, and the videos are pretty hilarious. Ever the doting father, he and Everly get in lots of quality time together — and not all of their bonding time is quite so messy.
In a series of videos posted to his Instagram Story, Tatum documented his afternoon with his 5-year-old daughter Everly. According to E! News, the two of them made bright, bead-filled slime. The first video shows Everly shoving her hands into a bucket of pink slime and letting it drip from her fingers. "Eww!" her dad says in the background. When the gunk gets stuck on Everly's hands, she says "I really need to get this off!" But her dad doesn't think it's likely. "We're never getting this off," Tanning says.
In a second video, as Mummy Pages reported, Channing pans over the slime, telling Everly that he doesn't want to touch it. "I made it less touchy," she replies, according to Entertainment Tonight. I'm assuming "touchy" is adorable little girl speak for "sticky." So cute. He wrapped up the Stories with a photo of him in a tiara.
Like Everly, pretty much every kid I know is obsessed "slime," a substance that is made of sodium borate and water. In an attempt to explain the craze, Raychelle Burks, assistant professor of chemistry at Saint Edward's University in Austin, Texas, told Brains On! that kids love the unique texture of the combination and the tactile experience that it offers them:
It doesn't do what we expect it to, because we expect things to be either a liquid or a solid. We usually don't expect things to kind of exist in this middle realm.
Parents, like Tatum, can get in on the fun when they experiment with slime alongside their kids. Little Bins Little Hands listed three benefits of playing with slime as a family. First, like the compounds in the slime, playing together bonds you with your child. When you express interest in what they care about, kids respond. Second, that tactile experience stimulates the senses and encourages them to play with their hands. Finally, it is 100 percent screen free. It can be hard to drag kids away from their devices, but slime making may do the trick.
When they're not busy making messes, Tatum and Everly also play dress up, have regular dance offs, and go to concerts together. At the premiere of his film Smallfoot, he opened up to E! News about breaking it down with Everly. "She's always had dance moves," he said, "She does her own dance moves. I don't know where she gets them, but she's been doing them since the day she came out. "We have dance-offs almost every day at some point." How sweet is that?
His Instagram page is a regular tribute account to his bond with his daughter. In a post from September, Tatum expressed his love and pride for Everly following an event at her school, writing:
So my daughter giving the lone [rock on emoji] sing at her school assembly today just confirmed what I already knew. She cool AF!! And that I will never even come close to how f-ing cool she is. I'm proud and feeling some pangs of dad dork growing.
Tatum's commitment to his daughter only makes him more endearing, and I hope that the updates on their special time together keep on coming. The two are clearly thick as thieves and I am here for it.
This first-time mom wants to have a home birth, but is she ready? Watch how a doula supports a military mom who's determined to have a home birth in Episode One of Romper's Doula Diaries, Season Two, below. Visit Bustle Digital Group's YouTube page for the next three episodes, launching every Monday starting November 26.