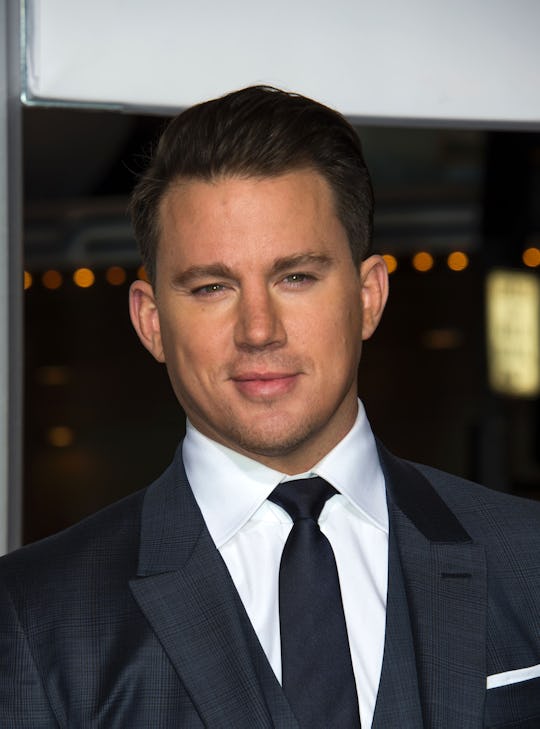 VALERIE MACON/AFP/Getty Images
Channing Tatum Met Simone Biles, & Totally Failed At Keeping His Cool
Calling Simone Biles amazing would be an understatement. The 19-year-old, four-time Olympic gold medalist left the world in awe as she crushed the Rio Olympics leaving with three individual golds in the women's individual all-around, vault, and floor exercise. Not to mention, she has a contagious bubbly personality and an ability to make her stunning routines look effortless. It's understandable why anyone would be totally psyched beyond belief to meet the gymnast considered to be the best of all time – even someone like Channing Tatum. And on Tuesday's episode of The Ellen Show, Tatum met Biles and totally failed at keeping his cool. But seriously, who could blame him?
Before Tatum's magic moment meeting the one and only Biles, he told Ellen DeGeneres why he's such a big fan (aren't we all?). When DeGeneres insisted Biles would "freak out" to meet Tatum (cue Biles' adorable introduction to her long-time crush Zac Efron), the actor insisted that he would be the one freaking out.
"Yeah, I'm going to freak out more, I bet..." Tatum said in an Ellen Show clip posted on YouTube. "She's... as we all know, she's going to be the greatest and already is the greatest of all time."
And as for Biles' effortless-seeming characteristic, Tatum pricelessly shared his theory as to how the gymnast standing at 4 feet 9 inches appears to defy gravity:
I have a theory though... my theory is that she's so tiny she has a harder time holding on to the ground than actually like, then just going up. She's just... I don't know, she's always just flying away. I think she's got really strong toes and [it] helps her hold on to the ground.
When Tatum and Biles officially met in-person on The Ellen Show stage, he may not have actually asked the Olympic gold gymnast about her toes – but he certainly had a creative way of introducing himself.
Tatum acted as a stand holding Biles' impressive four gold medals – to which the Olympic gold medalist perfectly labeled it "a Channing Tatum stand."
"We got you something because you have so many medals, you have to have a case, you have to have some place to hold them, right?" DeGeneres said prepping Biles for the now-dubbed "Channing Tatum stand." It was a sweet introduction considering Tatum is an impressive person himself (Magic Mike fans understand).
Biles has had her fair share of celebrity introductions lately. Between meeting Queen Bey, and taking selfies with Kim Kardashian, it's fun to watch the stellar Olympic gold athlete meet celebrities she's a fan of. Especially considering the world continues to be in total awe of her.