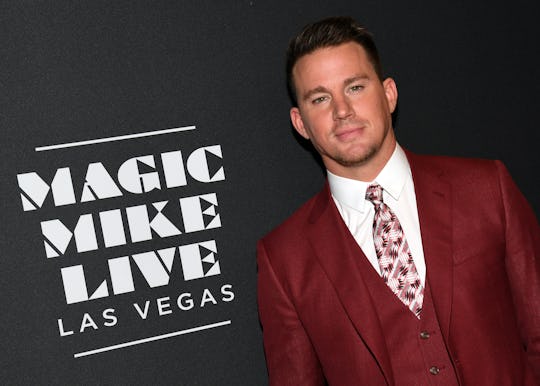 Ethan Miller/Getty Images Entertainment/Getty Images
Even Channing Tatum's Daughter Has Seen 'Magic Mike Live'
The show may technically be for an audience made up of the over-18 crowd, but Channing Tatum says his daughter saw Magic Mike Live long ago, in a recent interview. In fact, 3-year-old Everly was rockin' to this spinoff of the blockbuster male stripper film series far ahead of its April 21 premiere, the star of those hugely successful movies told Extra. It may not seem like the most family-friendly show, but the live version's 13 performers do a lot more than just strip and give lap dances: They sing, perform comedy, play the piano and the drums, break dance, and even show off their acrobatics skills during 90-minute extravaganza.
Despite being a toddler, Everly was among the first to experience the magic that is Magic Mike Live, which has now begun its run at the Hard Rock Hotel and Casino in Las Vegas. "She has already been to the show," Tatum said in the interview with Extra's Renee Bargh. "She is running around here like crazy. We keep it very casual and positive around here."
And Tatum, who also produced the original Magic Mike and its sequel, Magic Mike XXL, aims for the show to be about more than just stripping, anyhow. "It has a story on some level … the big takeaway was that we wanted it to be this really base-level experience," he said. "We want people to leave and still think about it after they leave."
And Carly Mallenbaum, who reviewed the show for USA Today, lauded it as "a strip show with substance," one that pushes back against male stripper tropes and features a female "host" who seeks to empower the audience.
Case in point: One universal mainstay of strip clubs, the ubiquitous dollar bill, isn't permitted in the show. Instead, guests get red "you're welcome" slips to applaud the performers, according to People. After all, the show is interactive, with performers offering their abs for audience members to stroke, twirling them during slow dances, and even giving them foot massages, USA Today's Mallenbaum wrote in her review. As far as she could tell, none of her fellow audience members used the safe word — "unicorn" — that Tatum mentioned in his Extra interview.
Everly probably simply spent her time enjoying the atmosphere and the upbeat vibes — and definitely the acrobatics — when she saw the show. So, while it might seem strange that a toddler got to see this, the real question is why haven't the rest of us?