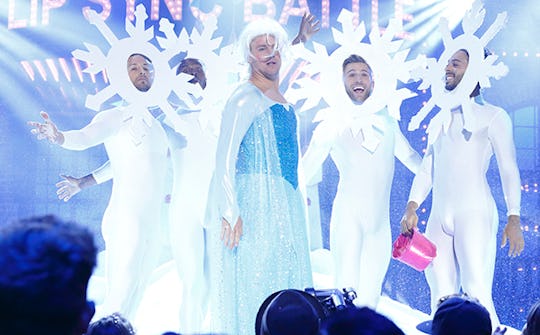 Channing Tatum Will Take On 'Frozen's Elsa For 'Lip Sync Battle' Season Premiere & I Can't Let It Go
Lip Sync Battle is one of the biggest breakout shows on television right now, at least, if virality is any indication. The Spike series has given the Internet gifts like Dwayne "The Rock" Johnson "performing" "Shake It Off" and Anne Hathaway channeling Miley Cyrus. But now, the Internet will be treated to Channing Tatum lip syncing as Frozen's Elsa for the Season 2 premiere airing on Jan. 7. And no, we cannot wait.
During the hour-long premiere, EW reports we'll see Tatum pay homage to Frozen while going head-to-head against his wife Jenna Dewan-Tatum — who will perform "Pony" and pay tribute to her hubby with a Magic Mike-inspired performance. Aw. And, based on what we've seen on Magic Mike, Channing is sure to bring some moves and some epic costume changes to boot.
But if that alone won't have you tuning in, Channing is going to "Run the World" — and Beyoncé herself is making an appearance. So, yeah, safe to say you will be glued to your TV Jan. 7.
The sneak peek, appropriately titled "Tatum Takeover," dropped Monday and there are tons of things to get excited about. But don't just take my word for it, below is a preview of what awesomeness is in store for us after the holidays:
OK, I am so ready for this one.
Image: Spike TV; Giphy