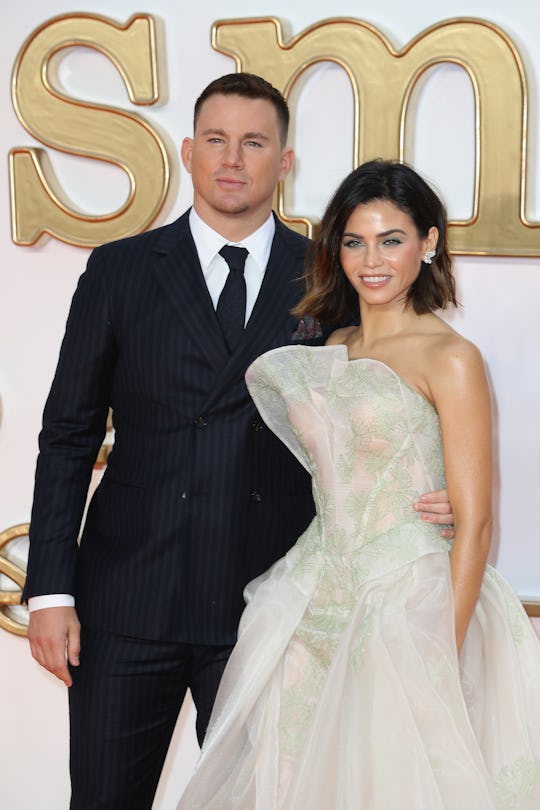 Chris Jackson/Getty Images Entertainment/Getty Images
Channing Tatum's Mother's Day Tribute To Jenna Dewan Is Heartbreakingly Sweet
Channing Tatum and Jenna Dewan pretty much broke the entire internet's heart when they announced in April that they were splitting up, but now, just as we were maybe finally beginning to heal, Channing Tatum wished Jenna Dewan a happy Mother's Day in his Instagram story Sunday, according to Us Weekly, and, well, can they just do us all a favor and get back together already? In the short clip, Channing honored both his ex and his own mother, saying, "Jenna, happy Mother's Day, baby. Mama, happy Mother's Day. I hope you're enjoying this beautiful sunset. I love you guys."
The actor definitely kept his shoutout short and sweet, and honestly, publicly wishing the mother of your child a happy Mother's Day despite your recent breakup is definitely a valuable move if you're looking to remain amicable co-parents. But do you know what else it's good for? Reminding her that you still love her and should never have parted, which is how I'm personally intending to interpret the fact that he also called her "baby." But feelings about their breakup aside, Tatum's message to Dewan is also a major gift to their 4-year-old daughter, Everly. Even the most loving breakups are hard when there are children involved, after all, but when you're still able to be thoughtful and respectful to each other despite not being together, it can make it so much easier.
The former spouses spent the holiday weekend apart, according to People, with Dewan having the chance to spend one-on-one time with their daughter while Tatum appeared to be spending more time in what may have been the same "middle of nowhere" desert location where, according to E! News, Tatum recently celebrated his 38th birthday with friends.
Dewan and Tatum announced their separation in a joint statement on their social media accounts on April 2, according to Us Weekly, and wrote that they "have lovingly chosen to separate as a couple." They also noted that while "absolutely nothing has changed about how much [they] love one another," they were "on different paths for now."
As supportive and positive as that statement sounded though, People reported that sources close to the couple said that the split was "hard for [Tatum]," and that he's "keeping busy with his friends and work," now that he has moved out of the home he shared with Dewan. Yet from the looks of it, he's also been spending lots of quality time with his daughter: he recently shared a shot of her playing in the sad, as well as one of Everly dressed in a unicorn costume.
In all likelihood, Tatum and Dewan will remain broken up, and his gesture was simply one of love and respect. But that doesn't mean fans aren't still holding out hope. On his most recent Instagram post, one user wrote, "Did you all hear him say happy Mother's Day to Jenna and that he loves her?? Please get back together already!" while another said, "I think you and Jenna belong together."
From the looks of it though, it was Everly who was Dewan's priority over the weekend. In addition to sharing a sweet Mother's Day message for her daughter, along with a photo of Everly as a baby, Dewan also shared two video clips of the two of them dancing together (Everly definitely seems to have inherited her mom's love of dance).
Although a reunion between Dewan and Tatum honestly seems pretty unlikely, Tatum's Mother's Day message is at least a sweet gesture that suggests the two really are trying to remain friends for the sake of their daughter. And from the looks of it, Dewan got to spend a really love-filled Mother's Day with her little girl, which is pretty much what every mom wants, even if they happen to be going through presumably heart-wrenching separation.