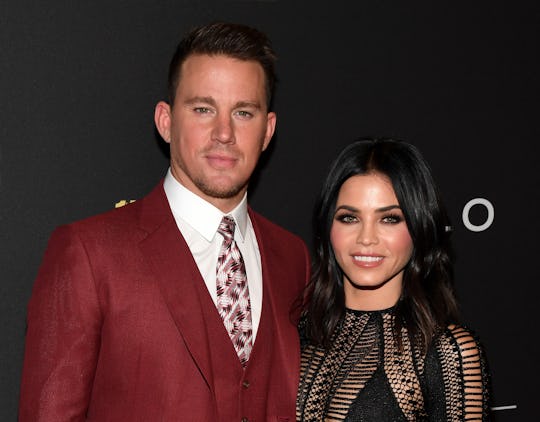 Ethan Miller/Getty Images Entertainment/Getty Images
Channing Tatum's Daughter Made Him A Great Birthday Present
Birthdays sometimes tend to lose their excitement for parents once they have a kid in their lives. Instead of focusing on yourself, the attention turns to your child and their extravagant birthday celebrations, which are honestly so much better than the messy "birthday parties" of your 20's. But for Channing Tatum, turning 37 years old on Wednesday was made just a little bit better with the help of his young daughter, Everly. His birthday must have not been that bad, because Channing Tatum's daughter's birthday cake that she "made for him" might literally be the sweetest gift ever.
Earlier in the week, Tatum celebrated his 37th year on this earth, and thank goodness he was put here. Without Channing Tatum, most people would not have their favorite guilty pleasure films, like the Step Up series or Magic Mike (who hasn't watched that film on Netflix once or twice). But two people are very grateful for Tatum's birthday — his wife, Jenna Dewan Tatum and 3-year-old daughter, Everly. Everly expressed this gratitude for her dad on his day of celebration, by "baking" him an adorable cake, posted to Jenna's Instagram. "I love you daddy. I made this cake for you. Love Evie," the cake reads. And the cake itself, covered in bright blue fondant and finely detailed white lettering looks a little advanced for a 3 year old's doing. But the decorations haphazardly put on the sides clearly look like Everly's handy work.
Um, talk about the best birthday present ever. Who wouldn't want a cake made specifically by their own child for their birthday? Not only is it a super cute present it's one that can throughly be enjoyed by everyone who is around (even little Everly). Maybe I should start gifting people cakes for their birthday this year?
All jokes aside, Tatum and his relationship with Everly is super cute and goes far beyond her generous and loving birthday present. Just like every one else, it sounds like Everly is also a major fan of her dad. On a recent appearance on The Ellen Show, Jenna told host Ellen DeGeneres that Everly has seen Magic Mike Live, the live action show in Las Vegas, co-directed by Tatum and based on Tatum's film series. Yet, despite it not being age appropriate for a 3 year old, according to Jenna, "we keep it very casual and positive around here." Good thinking.
While Everly has been exposed to some of the more interesting parts of her father's life, it appears as if Tatum's birthday party this year was a lot more wholesome. According to Entertainment Tonight, the Dewan-Tatum family went bowling together.
What a delicious present to top off one satisfying day.