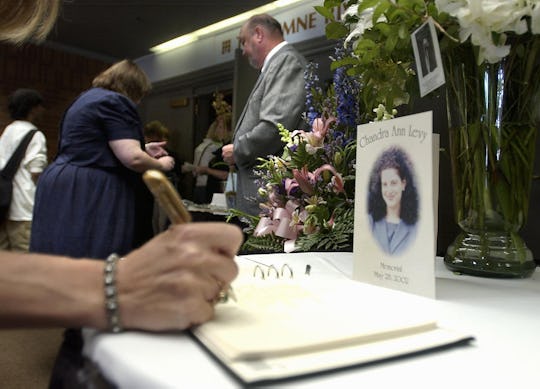 DEBBIE NODA/AFP/Getty Images
Charges Against Chandra Levy's Alleged Killer Dropped As State Says It Can't Prove Guilt
The death of a 24-year-old Washington, D.C., intern generated national headlines in in the early 2000s. Chandra Levy initially went missing in May 2001 and was later found to have been romantically linked to a congressman, before police eventually cleared the congressman of any suspicion. About a year later, Levy's remains were discovered and a suspect, Ingmar Guandique, was named. Now, years later, D.C. prosecutors have moved to drop charges against Chandra Levy's alleged killer, claiming that they can no longer prove that Guandique attacked her while she was jogging in a park. Guandique was initially sentenced to 60 years in prison back in 2010 for the alleged crime.
National interest in the Levy case blossomed and intensified after the missing woman's parents discovered that she has been seeing Congressman Gary Condit, a Democrat from her home district, romantically, CNN reported. Her remains were found more than a year after she had even been seen alive, in May 2002, in Washington's Rock Creek Park. In early 2009, police arrested Guandique — who was already serving a 10-year sentence for attacking two other women in that same park. But despite subsequent guilty plea and conviction, prosecutors on Thursday released a statement saying "recent unforeseen developments that were investigated over the past week," meaning they wouldn't pursue the retrial Guandique had been granted, and that he'll now go free.
Last year, a judge granted Guandique a retrial upon learning that a former cellmate who had testified against him had not been fully truthful, and may have been bribed. That trial was scheduled to start in October, according to NPR, but now it won't happen. Instead, Guandique, a man from El Salvador who was in the United States illegally, will face deportation proceedings.
"After investigating this information and reviewing all of the evidence in this case, the government now believes it is in the interests of justice for the Court to dismiss the case without prejudice," said in court documents filed Thursday — incredibly vague reasoning for the sudden reversal.
Of course, mystery and intrigue have always surrounded Chandra Levy's fate, which is why it garnered so much national interest in the first place. That starts with her reported romantic connection to Condit, the married congressman, at the same time she was interning for the Bureau of Prisons. And on Thursday, CBS reported that Guandique's attorneys had recently filed a motion that suggested they believe the former congressman could have been responsible for Levy's death. The defense team has intended to depose women who had been in sexual relationships with Condit, and had allegedly testified that he engaged in both rough sex and bondage.
Authorities cleared Condit in Levy's death years ago, and what exactly the new developments are and what, if anything, they will mean for him remains unclear. Just as the case has captivated interest for the past 15 years, it will surely continue to do so. It's important to remember, though, that there is a very real young woman in the middle of it, and a family that's undoubtedly still hurting.