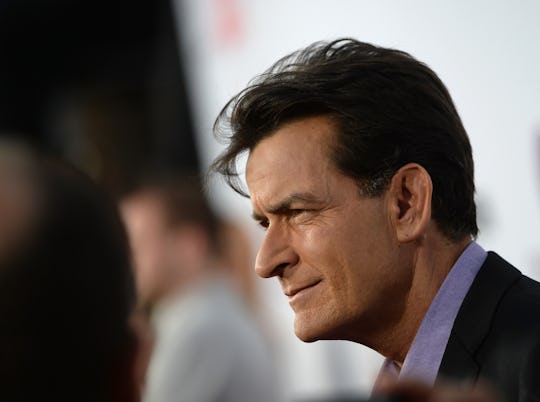 Michael Buckner/Getty Images Entertainment/Getty Images
Charlie Sheen's Trump Tweet Was Uncalled For
The recent string of celebrity deaths has many wondering what, exactly, is up with 2016, and will 2017 be any more bearable? After Debbie Reynolds passed away on Thursday night just one day after daughter Carrie Fisher did, fans took to Twitter to grieve. Whereas many of the messages were heartfelt, some managed to take the current circumstances to a totally offensive and inappropriate place. Charlie Sheen's Trump tweet, for instance, was completely uncalled for. Tweeting "Dear God; Trump next, please!" and finishing off his message with a middle finger emoji, Sheen attempted to shift the conversation from mourning lost lives to the cheering on of death.
What's more, Sheen defended his tweet on Thursday afternoon, pinning it to the top of his account. Writing a note, (with dramatic line breaks, reminiscent of free-verse poetry line breaks) Sheen insisted:
The media's reaction to last night's tweet is inanely emblematic of the panoramic timorousness draped vastly and want only across and and all expressions of hope or joy, that we now dare to publish or impart. oh, and by the way, i was talking to God, not you. [sic]
Despite his needlessly ornate language, Sheen's eagerness to blame it all on "the media's reaction" rather than take responsibility for his own statements is an altogether common response in wake of controversy. His "[expression] of hope or joy" was, at its core, a death wish, albeit one he intended to somehow be private, despite his 11.8 million followers.
Regardless of personal opinions about the president-elect, Sheen Tweeting his prayers was still an uncouth gesture. Many Twitter users were sure to take note of this, with one even tweeting back: "No matter how bad life gets, I never actively root for someone to die. That is a truly evil soul."
The seemingly disproportionate loss of life brought on by 2016 included the deaths of musicians David Bowie, George Michael, Prince, Leonard Cohen, and Glenn Frey, actor Alan Rickman and Doris Roberts, writer Harper Lee, Nancy Reagan, and Muhammad Ali. Still, that's little reason to "pray" for an addition to the list. Though he's not alone in his disdain for the president-elect, calling for his death is really not at all what first lady Michelle Obama meant when preaching "when they go low, we go high."
Former GOP presidential nominee Ted Cruz retweeted Sheen's message, insisting that Sheen was attempting to emulate a bible verse that reads: "For kings and all who are in high positions, that we may lead a peaceful and quiet life, godly and dignified in every way." Many of Cruz's Twitter followers responded to him critically, insisting that he focus on more important political concerns and ignore such inane distractions.
Whether you agree with his stances or not, responding to the president-elect the same way Sheen did this week is entirely inappropriate. We'd all do well to take the first lady's advice to heart right about now.