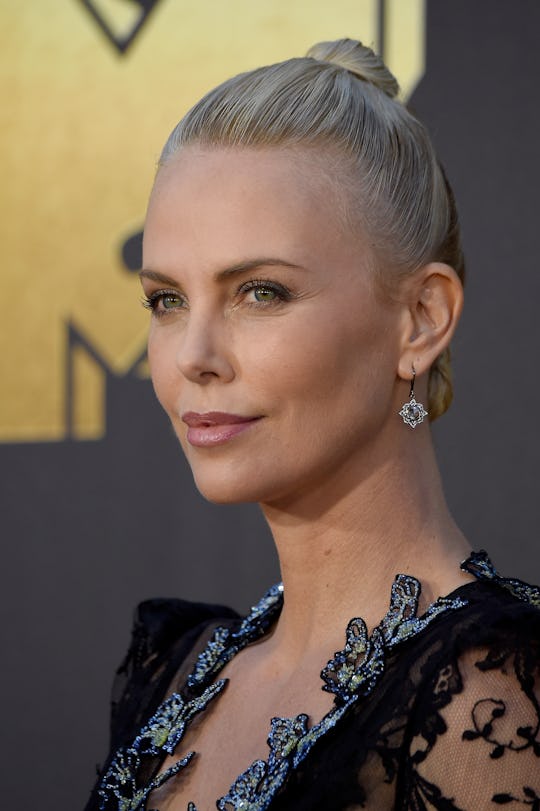 Frazer Harrison/Getty Images Entertainment/Getty Images
Charlize Theron Accepts MTV Movie Award For Her Daughter & Melts Our Hearts
Charlize Theron took the stage at the 2016 MTV Movie Awards on Sunday night, where she accepted the Best Female Performance award. Theron accepted the award for her daughter, August, saying that "the story of Fury Road [was] in part a story of the power of women and the power to create our own destinies." She also thanked her son and the director of Mad Max: Fury Road in a particularly heartwarming moment.
Theron's family already has a history with Mad Max: Fury Road. Her son, Jackson, learned to "pee standing" on set, as he joined his mother in Namibia for filming in 2012. According to The Arizona Republic, Theron told Io Donna,
He was the mascot of the crew. He feels at home in Africa; it was there he took his first steps, he said the first words and he learned how to pee standing! He has spent more time in Africa than in Los Angeles. The night we left Swakopmund, Namibia, he was crying because everything was over.'
Theron adopted Jackson in March 2012 from her home country of South Africa after a two-year adoption process. According to Us Weekly, she told Ellen Degeneres of the adoption process,
My mom said the most beautiful thing. She said, 'You know, it took me nine months to fall in love with you while you were growing in my stomach, and it took you two years to fall in love with this little baby.' It took two years of waiting, and then one day, it's finally there, and it feels exactly how it's supposed to feel. I don't know how to describe it. It just feels right.
Just over three years later, Theron adopted a second child: her daughter, August. They've been together for less than a year, so it was a touching public mention of August. "Tonight I accept this award on behalf of my own Furiosa, my daughter, August Simone," she said, "and on behalf of all the Furiosas out there."
She added: "I really have to thank my director, George Miller. I am so honored and so humbled to work with such an epic visionary. And I want to thank you guys, the fans. Seriously, I want to thank you all. This movie is because of you and because of your support."
Thanking her fans and director was really sweet, but nothing comes close to Charlize's shout-out to her two children. We'll just sit here and let our hearts melt.