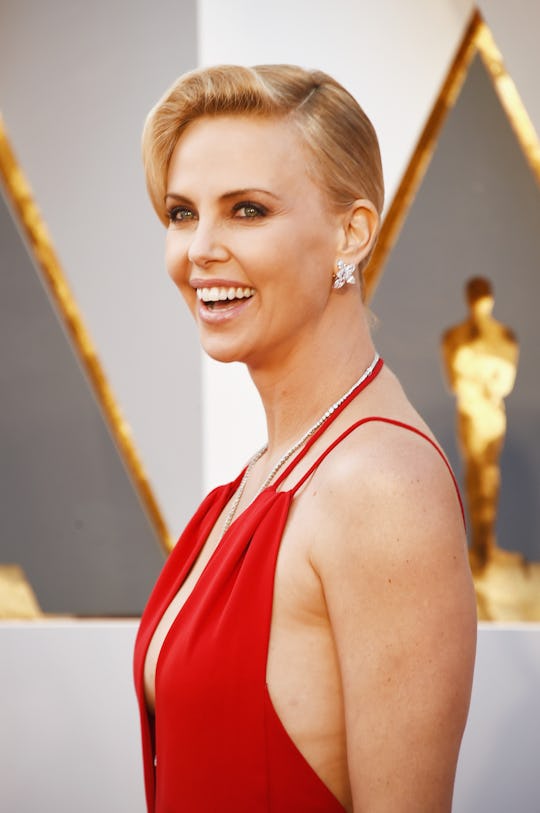 Jason Merritt/Getty Images Entertainment/Getty Images
Charlize Theron's Oscars Dress Was Hollywood Glam At Its Finest
When it comes to the Oscars red carpet, Charlize Theron could probably be considered one of the greats. For the last few years, the actress has perfected a combination that leaves everyone talking: sleek hair, loads of diamonds, and a super-simple Dior couture number that could easily stop traffic. And on Sunday night, the Mad Max star didn't disappoint. Charlize Theron's Oscars dress was as glam as it gets — on Oscars night, Theron was part Jessica Rabbit and part Grace Kelly (with a gorgeous short bob) and it was wonderful.
Theron played the completely fierce Imperator Furiosa in Oscar-nominated action movie Mad Max: Fury Road. For most critics, Theron's tough, feminist approach to Furiosa — from her intimidating look to her razor-sharp demeanor — made Mad Max one of the biggest action blockbusters of the year. Still, the Academy failed to recognize Theron for the role. While Mad Max was nominated for multiple awards this year, including Best Picture, its acclaimed leading actress was only scheduled to present the award for Best Original Screenplay at the 88th Academy Awards.
True to form, Theron appeared on the Oscars red carpet in a deep-plunge, red Christian Dior dress. And the effect was simply stunning. It's no wonder that fans immediately put the actress's sleek look on the 2016 Oscars' Best Dressed List.
But Theron is more than just her dress, and it's sad that her strong performance in Mad Max wasn't recognized in this year's awards.