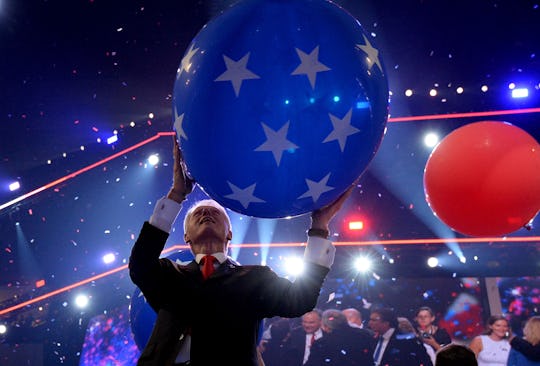 ROBYN BECK/AFP/Getty Images
Charlotte Clinton's Gift To Bill Clinton For His Birthday Is The Cutest
On August 19 in the United States, several things are celebrated: In Hawaii, everyone takes the day off to revel in Statehood Day; across the country, airlines celebrate National Aviation Day with tours and activities; and at the Clinton residence today, former president Bill Clinton celebrated his 70th birthday with his family. This year, one of Clinton's presents in particular caught the public's eye: one-year-old granddaughter Charlotte Clinton's gift to her grandfather was absolutely adorable.
Clinton's daughter, Chelsea, shared a picture of her daughter's gift on Twitter on Friday, writing, "Here's the balloon Charlotte got for Poppop. She hasn't learned yet presents are for the person getting the gift...!" The caption sat below a picture of an Elmo-themed birthday balloon.
Judging by the responses Chelsea received to her tweet, plenty of parents have loved experiencing their kids' present-picking fun — and everyone found it sweet. As one user commented, "It is the best gift: an invite to play with them." Another Twitter user, Lacey Frazier, said, "She knows that Poppop will love anything she gives him because it's from her! She might as well enjoy Poppop's gift, too!"
Considering that Clinton once called his granddaughter "the greatest thing since sliced bread," I have a feeling he probably loved his Elmo-themed balloon present.
Judging by Clinton's reaction to the balloons that showered the stage at the Democratic National Convention in July, he also clearly doesn't mind balloons. Perhaps Charlotte deserves a little more gift-giving credit than she's been given. (The internet, at least, definitely appreciated the opportunity to relive Clinton's DNC balloon moment.)
"I saw your dad at the #DNCinPHIL," Twitter user Jayme Nicole wrote in response to Chelsea's tweet. "I'm pretty sure she got him EXACTLY what he wanted! #thatmanlovesballoons."
How did the rest of the family celebrate? Democratic presidential nominee Hillary Clinton wished her husband a happy birthday on Twitter, writing, "45 years later, I couldn't be happier to have you by my side. Happy birthday, Bill!" She also shared a cute throwback picture of the couple's wedding day.
Along with her picture of Charlotte's present, Chelsea also shared a black-and-white throwback picture of herself and her father, writing, "Here is a #tbt in honor of my dad's 70th birthday tomorrow! Marc, Charlotte, Aidan & I can't wait to celebrate!"
Hopefully the Clinton clan had a lovely day celebrating the former president's 70th. Something tells me Clinton probably loved Charlotte's balloon — and any others friends and family have sent his way.