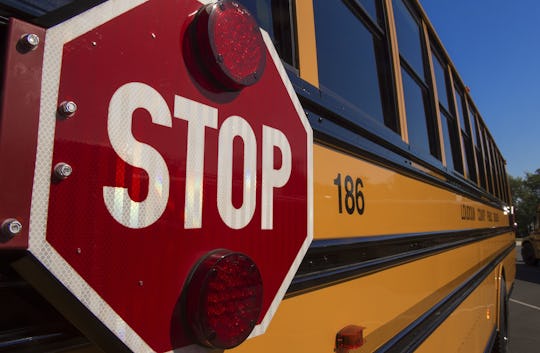 PAUL J. RICHARDS/AFP/Getty Images
Chattanooga School Bus Crash Injures At Least 23, Fatalities Reported
Police in Chattanooga, Tennessee confirmed early Monday evening that there were multiple fatalities in a Chattanooga school bus crash that occurred on Monday afternoon, according to local ABC News affiliate NewsChannel 9. The bus was taking kids home from school when it reportedly crashed into a tree. The Chattanooga police department told NewsChannel 9 that there were "roughly" 35 children onboard at the time of the crash.
Update: The Hamilton County District Attorney's office on Monday night confirmed the fatality count in the Chattanooga bus crash as at least six. All of the deceased were children.
A dramatic image of the crash posted at the Chattanooga Fire Department's Twitter account showed the bus apparently nearly severed in two by a large tree. The caption to the photo, which was posted before 4:30 local time, noted, "Last patient just extricated from bus by #ChatFire here at school bus crash on Talley Rd. EMS is transporting." Subsequent tweets from the same account on Monday evening reported that 23 patients has been transported to local hospitals, and that "contrary to media reports," no "firm numbers" on the multiple fatalities have been determined. According to CBS News, the passengers were students in kindergarten through fifth grade.
Early reports suggested that the death count might be as high as 12, but as of Monday evening, The Associated Press reported that six people had been killed after that number was cited by Hamilton County District Attorney Neal Pinkston during a press conference. According to Pinkston, one person died after being taken to a hospital, and five died at the scene.
At the time of the crash, students were being taken home from school at Woodmore Elementary. The crash occurred on Tally Road. At a news conference, Chattanooga Police Chief Fred Fletcher said "Our hearts go out, as well as the hearts of all these people behind me, to the families, the neighborhood, the school, for all the people involved in this, we assure you we are doing everything we can." Fletcher also said that the bus driver, who survived the accident, is currently being interviewed.
According to The Tennessean, there was a line out the door on Monday evening at Blood Assurance, a blood bank in downtown Chattanooga. According to CBS News, a text message was sent to parents in Hamilton County on Monday, informing them that "extra counselors and support staff will be on hand to help students process this horrible incident."
This is the second school bus crash this week in Tennessee, according to The Tennessean. On Friday, a crash in Nashville left three injured. In response to today's crash, Tennessee Gov. Bill Haslam said, "When this is over, it's time to have a good conversation about everything around school buses."