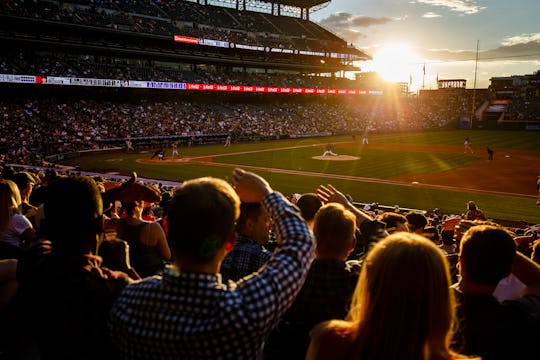 Justin Edmonds/Getty Images Sport/Getty Images
Here's How To Score Cheap Baseball Tickets, So Your Whole Family Can Enjoy The Season
Treating your family to a baseball game is an outing like no other, but all those tickets and hot dogs and souvenirs can start to add up. There are plenty of ways to enjoy America's Pastime without breaking your budget, though. Really, cheap baseball tickets are available for most games, you just need to know how to get them. Here's the inside scoop on the best way to score baseball tickets for next to nothing.
In a lot of ways, the long season and giant stadiums associated with Major League Baseball work in your favor, especially if you're willing to wait until the very last minute. "A great tip — if you want really cheap tickets, wait until the game is close — people are often looking to get rid of tickets and will drop prices," as Julia Litz of Vivid Seats told Romper. Last-minute changes in plans can affect even the most loyal of fans, freeing up some seats right before the game. You can search for cheap MLB tickets on Vivid Seats' website to see what deals are available.
If you aren't willing to gamble on seats at the last second, however, there are still plenty of other options. There's the tried-and-true joy of sitting in the stadium's cheap seats. Sure, you won't catch any balls way out there, but you'll still get to enjoy being at the game in person. Plus, you have more money on hand for tasty stadium snacks.
Online ticket exchanges are another popular option. For instance, just quickly browsing StubHub's baseball tickets for today brings up several options that start at less than $10 per ticket. That's a pretty great deal. Granted, there are a few more logistics to consider, including parking passes or Uber transport fees, but the ticket prices themselves are not that bad for some weekday games.
Whatever ticket exchange service you choose, be sure to find one that's authentic. For the most part, buying tickets from Craigslist is not the best bet, because you have no way of confirming whether they're legitimate until you get to the stadium itself. And nothing ruins a family outing faster than realizing you lost money to scalped tickets while standing in the stadium parking lot. With the array of ticket exchange and resell services available, don't risk it on fakes.
If you aren't watching the game with very small children who need monitoring, then consider another option by snapping up the single tickets. "If you just want to get in and you're really looking at price point, look for single tickets because you'll find a lot of those instances as well where someone just had that one extra ticket," said StubHub spokesperson Jessica Erskine in TIME Magazine. Even just splitting up your larger group may help open up new seating opportunities for the game. You can always regroup afterward to discuss every last play.
Lastly, consider supporting your local Minor League Baseball team. Ticket prices tend to be very reasonable, and it's common to get tickets for free in various local giveaways (at least in my part of the world). Plus, the games themselves are super laid-back and enjoyable, and you get to enjoy some extra shenanigans. For instance, sports fans are encouraged to bring their dogs to each Thursday game for my team, which is such an adorable benefit. Die-hard fans of the sport and casual attendees alike can get into the action for cheap at a minor league game. Local high school and college games are another fun option.
However you get there, attending a baseball game can be an affordable, fun option for most every family. Bring your family to the stadium today.