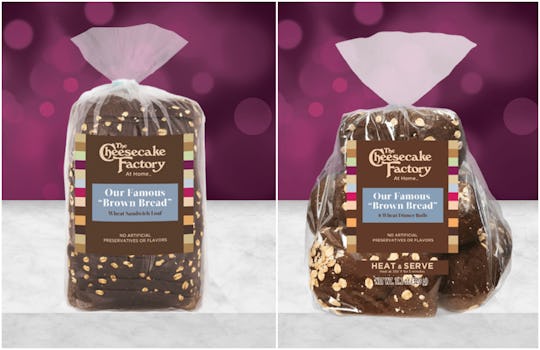 Cheesecake Factory
Cheesecake Factory's Brown Bread Is Coming To Grocery Stores, So Just Take My First Born Now
Going to the Cheesecake Factory as a family is always worth it, even if it's sometimes a huge ordeal to get everyone to rifle through the encyclopedia-length menus to pick out their dinner. Well, just in case you want to get the same experience without dragging all the kids out to a restaurant, you can now buy the Cheesecake Factory "brown bread" in grocery stores, so your dinner table and brown bag lunch will never be lame again.
According to the restaurant chain's website, the "fantastical food experience" will be available in dinner rolls, sandwich bread, and mini baguettes. It recommends that to get the whole experience, you should heat the rolls and baguettes up in the oven for about five minutes at 350 degrees to get the full effect.
If you've somehow never experienced this bread IRL before, you should definitely give it a try. It's addicting, and slightly sweet. According to Food & Wine staffers, it does taste exactly like the restaurant version, which is obviously the point. Even better? You can now know what the ingredients are. According to Bon Appetit, the sweet whole grain bread was reportedly made with cream cheese, molasses, and even chocolate chips.
Alas, on the ingredients page for the store bought versions, there's nothing all that interesting, though it does get a sweet flavor from molasses and might contain dairy.
In addition to their famous bread, the Cheesecake Factory also sells its brownie mix, cookies, and cakes in stores and online, so you can always recreate the experience at home. Its cheesecake is always the main event, but all of its treats are delicious, even the tropical cocktails and grilled cheese sandwiches.
Offering its products in stores is just another way for the chain to evolve since it was first created by Evelyn Overton back in the 1970s, according to Fox News. At first, she wanted to open a bakery to sell her prized cheesecake in a bakery in Detroit, Michigan, according to Vice's Broadly. She gave it up for a bit to raise her children and when she and her family moved to Los Angeles, the family gave it another try.
Her husband, Oscar would go door to door selling the delicious cake, according to Vice's Broadly. When her son David, opened up a little deli in 1978, they began to sell the desserts there. The rest, as they say, is history. David, now the CEO of the company, explained:
My parents had a little cheesecake factory in Detroit. My mother [Evelyn Overton] got the recipe out of a newspaper, and she said she moved it around a little bit—people loved it. We never had a lot of money. When my sister and I got old enough to go to school, she didn't like the idea that we would be latchkey kids, so she took all of her equipment from this store in Detroit. [She] moved it into her basement, and then for 25 years she made cheesecakes in Detroit out of her basement
The brown bread came way later, after there were a few Cheesecake Factory locations. Overton explained, according to Vice's Broadly, in the oral history his business that he knew a couple really good sourdough bread bakers in San Francisco baked the bread for the table and for sandwiches. According to the news outlet, Overton added:
I used a very good sourdough guy who was in LA, and I tasted what was then called squaw bread, and I asked him if he could make that for me in the long shape, so I could make a burger or sandwich on a wheat-ish type bread. It turned out to be delicious, and we started serving both breads on the table instead of just sourdough, and people loved it, and now it's pretty much a staple.
He adds, "People really like it. There's been several rappers that have had lines in their songs: Bow Wow, Outkast. Outkast was pretty big at the time."
It's true that the bread is now a staple of every Cheesecake Factory meal. And now it can be a staple in your lunch boxes, too.
Check out Romper's new video series, Romper's Doula Diaries:
Watch full episodes of Romper's Doula Diaries on Facebook Watch.