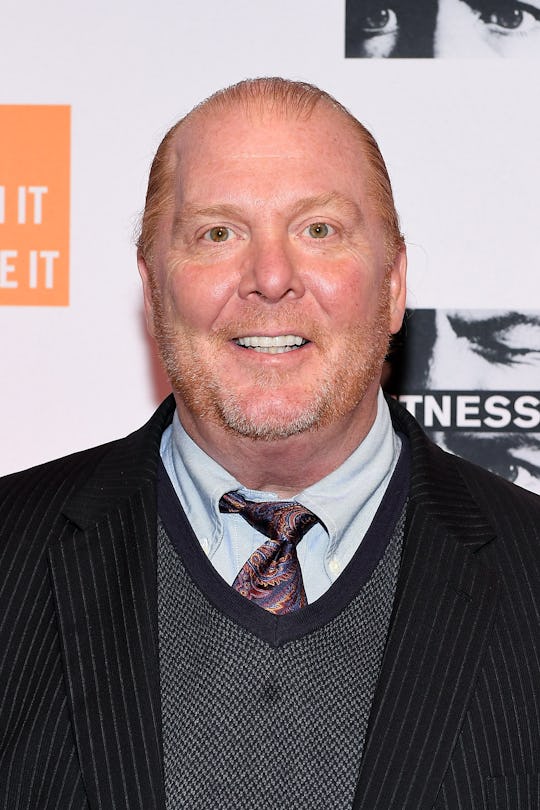 Dia Dipasupil/Getty Images Entertainment/Getty Images
Chef Mario Batali Faces Sexual Misconduct Allegations From Four Women
If you think sexual harassment and assault is only a problem in Hollywood, think again. On Monday, news broke that famed Chef Mario Batali faces sexual misconduct allegations from four women, according to Eater. Batali did not immediately respond to Romper's request for comment.
The women told Eater in an explosive investigation that Batali had sexually harassed and groped them multiple times over the years, indicative of a pattern of behavior that allegedly spans over two decades. One victim recalled how the celebrity chef rubbed her bare breasts after wine was spilled on her shirt, while another said that The Chew co-host would repeatedly grab her from behind and pressed her against his body. All of the women, three of whom worked for Batali, spoke on the condition of anonymity because they fear retaliation, Eater reported.
Batali did not deny the allegations against him, telling Eater in a statement that the reports "match up" with his past behavior. He added,
I apologize to the people I have mistreated and hurt. Although the identities of most of the individuals mentioned in these stories have not been revealed to me, much of the behavior described does, in fact, match up with ways I have acted.
He continued, according to Eater,
That behavior was wrong and there are no excuses. I take full responsibility and am deeply sorry for any pain, humiliation or discomfort I have caused to my peers, employees, customers, friends and family.
In response to the allegations, Batali said on Monday that he will step away from the daily operations of his restaurant businesses, as well as from his hosting duties on ABC's The Chew, according to CNNMoney. Batali & Bastianich Hospitality Group, which Batali founded with restaurateur Joe Bastianich, confirmed the decision to CNNMoney, adding that the famous chef remains owner of the group for now, but his role is being reviewed.
In a statement provided to Romper, a B&B Hospitality Group spokesperson said,
We take these allegations very seriously. We pride ourselves on being a workplace for our employees where they can grow and deliver great service with equal opportunity and free from any discrimination. We have strong policies and practices in place that address sexual harassment. We train employees in these policies and we enforce them, up to and including termination.
An ABC spokesperson gave a similar statement to Eater, saying,
While we are unaware of any type of inappropriate behavior involving him and anyone affiliated with the show, we will swiftly address any alleged violations of our standards of conduct.
The B&B spokesperson also told Romper that the group has decided "to take a further step beyond our current policies and practices to ensure all employees feel comfortable and empowered to report issues."
The spokesperson continued,
If employees have claims they want to make against any corporate officers or owners specifically, they may now contact the outside corporate investigations firm T&M Protection Resources, LLC, who has discretion to independently investigate complaints and report to outside counsel.
Eater's investigation is not the first time a person has come forward in regard to Batali's history of sexual misconduct, though. In October of this year, a B&B restaurant worker filed an official complaint against Batali, reporting the chef for "inappropriate behavior," according to CBS News. A B&B spokesperson said it was the first time a formal report was filed against the Iron Chef, who was reprimanded and required to attend training as a result. The restaurant where this occurred, however, was not disclosed.
CBS News also reported that the Food Network has put the famous cook's show Molto Mario on hold as police investigate the sexual misconduct reports. Molto Mario followed Batali on a culinary tour of Italy, in which he shared tips and secrets to cooking Italian food.
This is also not the first time Batali has been at the center of a public controversy. In May, a former pastry chef of Batali's West Village restaurant Babbo filed a lawsuit against B&B Hospitality Group for wrongful termination after reporting to his superiors that he had been subjected to anti-gay slurs, according to The New York Daily News. And in 2012, Batali was ordered to pay over $5 million in stolen tips to 1,100 B&B workers, the Daily News reported.
This year — and the last few months, in particular — have shown just how pervasive rape culture is in every industry. Hopefully, as more people come forward with their experiences, the way sexual misconduct is regarded and treated will change.