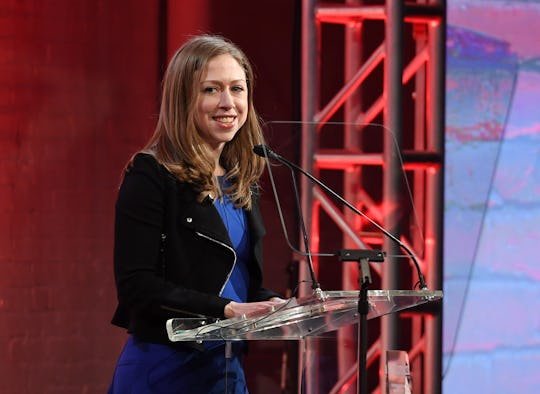 Dimitrios Kambouris/Getty Images Entertainment/Getty Images
Chelsea Clinton Expertly Shuts Down Trump Calling The White House A "Dump"
The White House turns 225 years old this October. It has long been a prestigious symbol of the first family when every U.S. president since John Adams has resided at 1600 Pennsylvania Avenue there since 1800. But America's 45th president, Donald Trump, said "That White House is a dump" according to a report from GOLF. (The White House denied to GOLF that Trump said this.) One of America's former first daughters, Chelsea Clinton, expertly shut down Trump for calling the White House a "dump," in a powerful tweet on Tuesday: "Thank you to all the White House ushers, butlers, maids, chefs, florists, gardeners, plumbers, engineers & curators for all you do every day."
Trump moved into the White House 194 days ago — not that he's spent much time there. Trump has spent 22 percent of his presidency playing golf, according to Golf News Net, dividing his time between his private golf clubs in Mar-a-Lago, Florida and Bedminster, New Jersey. Clinton, on the other hand, spent nearly 3,000 days at the White House as she grew up through her teenage years and into young adulthood under the American spotlight. Clinton has 15 times the experience with the White House staff than Trump has ever had thus far. She has shown grace and humility in supporting these often overlooked and yet essential staff after their boss reportedly told them they suck at their jobs.
When Trump took office in January, he had literally thousands of positions to fill within the U.S. government — but there were approximately 300 positions Trump didn't get to fill: White House permanent residence staffers. These are the ushers, butlers, and dozens of other residence positions that keep the White House looking beautiful and operating like a well-oiled machine of class, elegance, and efficiency. The incoming president doesn't choose his White House residence staffers, as AOL reported, with many remaining in their positions for decades, serving multiple presidents.
Trump's reported comment also shows just how incredibly out of touch he is with the working class, as if his promises to repeal the Affordable Care Act weren't overt enough. Trump's entire platform has been to support the working class of America, and yet he shows a complete lack of respect for the very working class of his presidential residence. Even his campaign slogan — Make America Great Again — implies that the current state of everything in this country is somehow not good enough. Even after obtaining the top-most job in the United States, the White House reportedly still wasn't good enough for Trump, as his comment clearly demonstrates.
For Clinton, her respect for the White House residence staff is exceptionally personal, as former White House usher Worthington White told Vanity Fair in April 2016. White noted that the residential staff was especially protective of the young Clinton as she grew up in the White House.
It's unclear how much Trump's youngest son Barron has interacted with White House residence staff yet; Melania Trump and son Barron only moved into the White House in June and have both largely kept out of the public light since. On June 11, Melania posted to her FLOTUS Instagram she was "Looking forward to the memories we'll make in our new home! #MovingDay." Just 51 days later, her husband — the President of the United States — was reported to have called that same home "a dump."
The grandeur and gravitas of the White House transcends political party when it comes to the roles of its staff. For anyone — let alone the president — to reportedly describe his permanent residence in such a crass, tasteless way, is not only an insult to his dedicated staff, but to the institution of the White house itself.
So thank you, Chelsea Clinton, for calling out the president in such a spectacular way and reminding the American public of the hundreds of residence staffers that work tirelessly to maintain the White House every day.